Tillsonburg Thunder promoting T'Burg First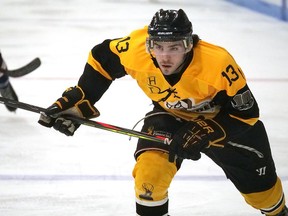 Article content
The Tillsonburg Thunder can't wait to get back on the ice.
Article content
In fact, the men's hockey team had its first two on-ice tryout/training sessions for the 2021-22 season this week.
We apologize, but this video has failed to load.
Tillsonburg Thunder promoting T'Burg First
Back to video
"COVID-19 has affected us all," said team owner/president Mike Holly. "The Tillsonburg Thunder have been an active part of the Tillsonburg community for the 13 years. The Thunder's 2019-20 season was cancelled in the playoff semifinals (where the Thunder were battling defending league champs Clinton). And the entire 2020-21 season was cancelled."
Local businesses have also been hard hit by Covid, and as an integral part of the local community, the Thunder brainstormed to determine if they could do anything to help.
"We were thinking about what can we do to help some Tillsonburg businesses? And our greatest asset is our games," said Holly, who came up with an idea to feature businesses in-person at games.
He calls it the T'Burg First Program.
"Attendance has always been excellent and if local businesses could display what they do for those in attendance – at no cost to them – everyone wins."
At every home game this season, the Thunder plan to have 2-3 businesses set up a display in the Marwood/DeCloet lounge area to show everyone what they do.
"I have to admit that there are some stores downtown that I do not know what they sell, businesses in town that I do not know what they make," said Holly.
"Some businesses will simply have a display to educate us all. Some businesses will use this exposure as a hiring too. Stores can run promotions.
Article content
"Some companies might want to offer discount coupons or maybe just have their menu. Samples if they want. Some companies may use it for hiring – so have applications and say 'we're looking for hirings, if you want a job fill this out…'"
As a special bonus to each participating business, the Tillsonburg Thunder will provide FREE tickets to all of their employees for one game.
"I think it's a great way for people to reward their staff. And some people will come watch the game and maybe come back for the next one."
If you run/own a business in Tillsonburg or the surrounding area and want to know more about T'Burg First, contact Mike Holly at 519-983-0050 or email Michael.holly@rogers.com .
"I can expect the spots to fill fast and we will do our best to accommodate as many as possible, but there will be a limit," said Holly.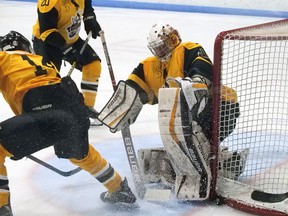 WOSHL
There have been some significant changes for the Thunder's 2021-22 season. The Tillsonburg team has left WOAA and is now one of five teams in the new Western Ontario Super Hockey League (WOSHL).
Also competing in WOSHL are the Alvinston Killer Bees, Elora Rocks, Stratford Fighting Irish, and the Strathroy Jets.
"We're also doing some other community based things with the games throughout the year," said Thunder GM Bill Ryan.
"So we're going to do a First Responders Night – we mandated this league wide. So they will get in free and we're going to figure out a way to honour them on the ice."
Another league-wide initiative is a 'Hockey Fights Cancer' Awareness Night, which will be in November. It will include sweater auctions to help raise funds for cancer research and awareness.
Article content
"We're also taking the Remembrance Day game to the next level," said Ryan. "We're going to make that a little more of an event because there are fewer and fewer of the WWII veterans around and the other war veterans."
Traditional Thunder nights like the Teddy Bear Toss and the Community Living Night will return.
The league is taking an active approach to marketing, said Holly.
"You'll see this league is much more community involved, said Ryan. "Sleeman Breweries just came on as a league-wide sponsor. It will be the Sleeman Cup."
And with a point system for grading players and filling out rosters, the expectation is to have more local area players (players within 30-45 minutes away).
"There's 12 teams out in the east (EOSHL), and there's (five) teams here and we've got two or three teams lined up already for next year. And then there's some teams that want to fill in the middle in the Barrie, Toronto, Peterborough areas. So at some point I expect it will stretch…"