Tillsonburg Thunder open semifinal playoffs this weekend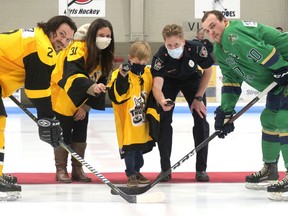 Article content
Tillsonburg Thunder will be welcoming fans back to 'The Thunderdome' for playoff hockey on Saturday.
Article content
We apologize, but this video has failed to load.
Tillsonburg Thunder open semifinal playoffs this weekend
Back to video
Western Ontario Super Hockey League (WOSHL) semifinals begin Friday for the Thunder when they travel to Strathroy for Game 1 in a best-of-seven series.
Game 2 will be played at the Kinsmen Memorial Arena in Tillsonburg on Saturday, March 12, with a 7:30 p.m. puck drop – and no vaccine passports are needed.
There will be a licensed Blue Line Club and snacks available.
"There's going to be no easy wins the rest of the way, that's for sure," said Thunder GM Bill Ryan. "We'll have to have full buy-in from all the players, good goaltending, good defence, and go from there."
Admission is $10 per adult, 5-16 year olds $5, and children under 5 are free. Masks are still required.
The series continues March 18-19, with Tillsonburg on home ice for Game 4 on the 19th, then if necessary March 25-26. A date for Game 7, if necessary, in Strathroy is to be determined.
"This series is second seed vs third – we ended up grabbing the third seed," said Thunder GM Bill Ryan, excited to see the first-ever WOSHL playoff games in Tillsonburg.
"Considering how much we struggled with injuries and people off with Covid and everything else around Christmas, we were happy to get third. We had a stretch where we had 10 players not available, regularly."
Tillsonburg battled Stratford Fighting Irish down the stretch of a Covid-condensed schedule, finally edging out the Irish by two points with a 10-10-0 regular season record.
"It was a pretty good accomplishment," said Ryan, noting they had critical back-to-back home ice wins – 4-1 over first-place Elora on Feb. 19 and 7-2 over Stratford on Feb. 26 with three short-handed goals in the regular season finale. They needed both two wins to lock up third place.
Article content
Thunder's Todd Ratchford assisted on all seven goals in the Stratford game.
"In the 15 years I've been involved with the Thunder, I've never seen that before," said Ryan.
At this level of hockey, it's all about roster availability, said Ryan.
"I think we'll do very well in the playoffs… I'm hoping anyway. I prefer the road games to get it going.
"We're 100% healthy, everybody's good to go, except for a couple long-term injuries that we had before Christmas that probably won't get back this year."
The Thunder made some roster deadline additions and they all worked out well.
"The two new defencemen we added late have fit in nicely, Burns and Abraham, very good pieces, solid defencemen. Abraham's a big physical defenceman and Burnsie's is a gifted offensive defenceman. They both fit in very well."
Fourth-place Stratford eliminated Alvinston in a two-game semifinal qualifier series. The Fighting Irish will play Elora Rocks in the other league semifinal.
The new WOSHL is working out well, said Ryan, as they navigated a five-team season through pandemic challenges.
"The league has growth inquiries about next year, the players all seem to be happy, the referees are very happy… and other than issues with the Covid lockdown (changing schedules, capacity limits), everything's gone great. All in all, I'm very happy and I think most are very happy with how the first season went.
"The beauty of this league is travel time is reduced a lot, which reduces costs, which makes it easier to operate.
"I'm real positive about the future – and the rest of this season. I was at the two Stratford games this weekend and their crowds were phenomenal. Alvinston was drawing over 300, Stratford 300-plus, Elora 300-plus and in Tillsonburg we get anywhere from 250-400 a game. From a league perspective, we're very happy. The Thunder regular season was a bit of a rollercoaster, but we're peaking at the right time I believe."