Tillsonburg MMA fighter Aaron Jeffery primed for Philadelphia bout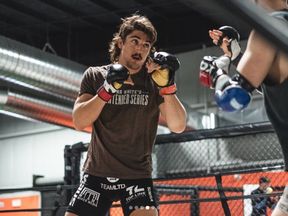 Article content
There is no foolproof method to book a ticket to the Ultimate Fighting Championship octagon.
Article content
"I always compare it with the National Football League," said Aaron Jeffery, a 28-year-old fighter from Tillsonburg. "If you play college ball and are good at it, you have a pretty straight route to the NFL. In mixed martial arts, there's no beaten path. You need to know people, have a management team with good connections, do something different and go viral.
We apologize, but this video has failed to load.
Tillsonburg MMA fighter Aaron Jeffery primed for Philadelphia bout
Back to video
"Maybe if you talk a bunch of s— online, too, that helps, but that's not me at all."
Jeffery has a 9-2 record with knockouts in his last three fights and he will face middleweight title-holder Collin Huckbody of Minnesota at Cage Fury FC 93 on March 12 in Philadelphia.
"I don't know too many Canadian fighters getting fights during the pandemic," the six-foot-two Jeffery said. "If you're not in the UFC, things are pretty tough right now. There has been nothing here in Canada. I'm fortunate in all this that I've had two fights recently. I'm feeling very good and constantly improving."
Jeffery played soccer and football growing up.
"My older brother (Alex) was the one who started watching the fights with his friend and I would tag along," he said.
"I liked Anderson Silva, who was always doing the Matrix stuff and I wished I could do that, but at some point, I figured that wasn't going to be my style and I better strike out on my own."

He studied medical sciences at Brock University in St. Catharines and now owns a nutrition consulting business.
He met his current coach Chris Prickett, who was helping Brock's wrestling program, and soon started fighting out of Prickett's Niagara Top Team Gym.
Article content
"I met (former Olympic wrestler and coach) Marty Calder through Chris and he's been helping me out," Jeffery said. "I live with Chris and his girlfriend Jasmine Jasudavicius, who is on the same card as me next month. We have (lightweight) Anthony Romero, too, so our gym here might be the next Adrenaline with a few fighters coming up into the UFC at the same time.
"This fight, hopefully, is the one that gets me there."
A big worry, however, is getting to the bout with COVID-19 travel restrictions.
"We're all a little stressed about it," Jeffery said. "You never know what's going to happen until the day. I was concerned my last two fights and got through the airport no problem. Maybe it would be better to make the (seven-hour) drive. We'll see what happens.
"I'm just looking forward to it. It's a great opportunity and I'm ready."