Thunder win first WOSHL exhibition 8-7 in overtime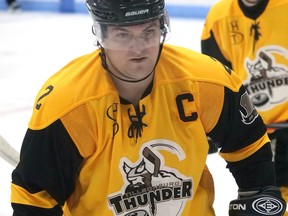 Article content
The Tillsonburg Thunder opened the 2021-22 Western Ontario Super Hockey League pre-season much as they finished their 2020 WOAA men's hockey regular season – with a high-scoring victory over Elora Rocks.
Article content
"It's new and exciting and fresh," said Thunder coach Rob Hutchison after Sunday afternoon's 8-7 overtime victory. "I think it's going to take off really well with the closeness of the teams. I think it was an awesome start here today (in Stratford). It's the beginning of something new and fresh for everybody. It's going to be really exciting this year."
We apologize, but this video has failed to load.
Thunder win first WOSHL exhibition 8-7 in overtime
Back to video
Now playing in the new WOSHL, Elora and Tillsonburg met Sunday to open an exhibition double-header. Tillsonburg's Braden Roberts scored the game winner 10 seconds into overtime to give Tillsonburg a thrilling 8-7 victory.
"It was a barn-burner … after about 22 minutes it was a barn-burner because our guys were getting kind of tired," Hutchison laughed.
Both sides were "shaking off the rust," said Hutchison, contributing to the high score.
"I think it was everybody, Elora and us, kind of getting some of the rust off and getting used to each other. We had a few guys from our normal line-up and a handful of new guys."
The 'rust' had built up over the last year-and-a-half not playing hockey during the pandemic.
"It might have been longer for some guys depending how long they were out," noted Hutchison. "Sixty minutes was kind of tough – we've been practising, but 50-minute practices, a little four-on-four or five-on-five. So it was just a combination, guys trying to get their legs back underneath them."
Tillsonburg took an early 2-0 lead on back-to-back goals by Andrew Tapsell, who scored the first-ever WOSHL goal at 1:34. Elora got one back before the period ended.
Article content
Thunder's Zack McQuade, Matt Weston, Chris McGuffin, and Todd Ratchford scored in the second, countered by three Elora goals (including a short-handed effort) giving Tillsonburg a 6-4 lead going into the third.
Elora closed the gap midway through the final 20 minutes, then equalized at 6-6 with 2:21 left to play on a Jacob Black power-play goal.
Elora's Spencer Gourlay intercepted a (tape-to-tape) pass deep in the Tillsonburg zone with 1:13 left to give the Rocks their first lead of the game.
"He heard a guy call our for a pass, passed it, looked up and …" Hutchison smiled. "'Hey, that's not our guy.'"
It was short-lived, however, as Thunder's Ratchford fired a long 100-foot pass up the middle to Jake Brown just outside Elora's blueline, catching Elora out of position. Brown went glove-side on the breakaway to tie it at 7-7 with 55 seconds left.
In overtime, Roberts (from Brendan Barletta) blew past an Elora defenceman inside the blueline and scored to end the game just 10 seconds into the sudden death period.
The WOSHL is experimenting with a new overtime format starting with three-on-three, transitioning to two-on-two and one-on-one if necessary.
"I think both teams had some good plays, good moves with the puck, passing, shooting," said Hutchison. "(Tapsell), one of the veteran players from last year, he got us off to a quick start with a couple goals from the slot."
Playing with a short bench (five defencemen and three forward lines), Hutchison said they all played well.
Article content
"You could tell by the third period it was getting tough for everybody. It was kind of tough, but they did okay. By the third period you could tell the legs were kind of burning at the end."
The team has a Tuesday practice and one more exhibition on the road Saturday before opening the WOSHL regular season Saturday, Oct. 2 in Stratford – the first of six road games before their first-ever WOSHL home game Saturday, Nov. 7 against the Fighting Irish (7 p.m.).
"We've still got a few guys that we're looking at that, as long as they're staying around town, that we're going to sign."
RIBFEST
The Tillsonburg Thunder 'Takeout Style' Ribfest is Sept. 24-26 at the Tillsonburg Community Centre/Memorial Park. Open 11 a.m. each day until 8-9 p.m. Friday and Saturday, and closing around 6-7 p.m. Sunday. There will be two rib vendors – Ribs Royale and Gonzalez BBQ.