Thunder entering four-game home stand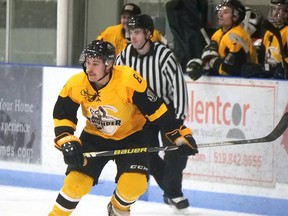 Article content
The Kinsmen Memorial Arena reopened and the Tillsonburg Thunder begin their WOSHL regular season home stretch Saturday, Feb. 5 when they play host to the Alvinston Killer Bees at 7:30 p.m.
Article content
It's the first of four consecutive Saturday home games for the Thunder in February before playoffs in March. The team had started their inaugural Western Ontario Super Hockey League season with an extended six-game road trip in October/November. In the revised 20-game schedule, it only made sense to finish it at home.
We apologize, but this video has failed to load.
Thunder entering four-game home stand
Back to video
With playoffs soon on the horizon, the Thunder recently announced three player signings – two defencemen and a forward – and expect another goalie to be signed in the near future.
"I think we're going to carry nine or 10 defencemen and four goalies," said Thunder president/owner Mike Holly. "Usually we carry 7-8 (defencemen) and halfway through playoffs we're down to three."
Justin Abraham, 27, a 'big, smooth skating, skilled defenceman,' will wear No. 10. He comes to the Thunder with senior hockey experience in OHA AAA and WOAA AA. He also captained a Sutherland Cup winner in Junior B.
Described as a 'fast and skilled defenceman,' Andrew Burns, 24, played CIS university hockey at Carelton, and in the OHL with the Windsor Spitfires (three-and-a-half seasons) and Kitchener Rangers.
Forward Cameron Sault is a 35-year-old veteran. The former pro also played more than 200 WOAA games where he averaged more than a point per game.
"He (Sault) is a sniper, a real good sniper," said Holly. "We're pretty excited about him coming on."
The Thunder will not be releasing any players before playoffs. Due to the COVID-19 pandemic and its impact on sports, teams now have a limit of 30 skaters, plus goalies.
Article content
"With COVID, we're not too sure how many are going to be on protocol. What happens if you have 25 players and 10 have COVID? Then what happens if 10 have COVID and a couple of guys have to work? You could be down to 9-10 players total."
The Thunder are not alone in signing more players, Holly noted.
"We're excited – we know that Elora signed a couple new players, Alvinston signed a couple new players, so did Stratford, so it's going to be very high quality hockey. We haven't had the results we've wanted in these games but I think there were only one or two that we've been out of… every other (loss) if the puck bounced the other way we're winning it."
Playoffs will begin with the No. 4 and No. 5 seeds playing a best-of-three first-round series. One team will be eliminated, the other will advance to semifinals.
"Right now we're in the fourth spot," said Holly. "We're hoping to climb into the No. 3 spot. Stratford has two games in hand on us and we play them the last in our last home game – that game could be for the No. 3-4 spots."
Semifinals and finals will be best-of-seven series.