Slo-pitch moves into 'stretch drive'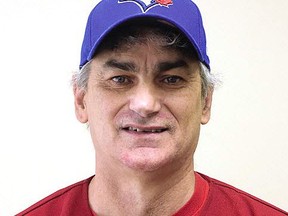 Article content
I have to start this week's Tillsonburg slo-pitch column in a sombre tone.
Article content
Two players succumbed to their fights with cancer this past week.
We apologize, but this video has failed to load.
Slo-pitch moves into 'stretch drive'
Back to video
Laurie Loughrin was a long-time member of our slo-pitch community and she fought a long hard battle with cancer.
I always remember Lou or 8's for her competitive spirit on the diamond and her love for the game whether it be playing on a ladies or co-ed team. She will be greatly missed by her family and her adopted Wildcats family and all of her friends and anyone that made her acquaintance. The Ladies League will pay tribute to her at Monday night's games by honouring her with a moment of silence simultaneously on Ann2 and 3 and later at Kiwanis. Come out and honour her memory!
The other that passed was not from here but touched a lot of local players' hearts from here. John Brown, or JB as he was commonly known, also lost his battle with cancer. He was very well known across the province and I believe throughout Canada. I met him along with my ladies team while attending Nationals in Calgary. He was playing on a Men's Masters team and from this event many of the Ladies became great long-time friends. Any slo-pitchers playing in the major tournaments knew him well and showed much love and support towards him during his courageous battle.
What stood out to me the most upon reading his obituary was his commitment to supporting so many great causes and charities and his unselfishness. RIP JB16.
Men's A
We are into the stretch drive now as the five teams battle for the four available playoff spots!
Article content
Haines Roofing appears to have the inside track of finishing first but they have not clinched yet and their two remaining games left with G.C. Lounsbury could decide it as G.C. also has two games in hand. Lots could change though as last place Foldens Machine Works has seven games remaining. This should be an exciting finish!
Ward's Automotive 16, Foldens Machine Works 12
Ward's: Connor Smith 3-4 HR, Trevor Hawley 3-4 HR, Brandon Velda HR, Brayden Rodgers HR, Chad Ingalls HR
Foldens: Logan Kloet 4-4 2HR, Steve Derks 3-4, Bryan Deblaire HR
Ward's scored seven in the first and six in the fourth in win. Trevor Hawley homered and scored three runs on the night.
Ward's 19, G.C. Lounsbury 8
Ward's: Connor Smith 3-3 HR, Gus Ford 3-4, Brandon Velda HR
G.C.: Sean Miller 3-4, Travis Nikin 3-4, Trevor Stuyt HR
Ward's started off with a seven-run bat around first. Gus Ford, Brandon Velda and Trevor Hawley each scored three runs.
Courtland Landscape and Grounds 17, Haines Roofing 15
Courtland: Adam Thomson 5-6 HR, Joe Thorburn 4-5 HR, Brooks Schnarr 2HR, Aaron Laporte 2HR, Tyler Lamb HR
Haines: Martin Klassen 4-4 HR, Kyle Smith 3-4, Dan Clark HR, Chris Durham HR
Courtland Landscape was full value for their victory as they played with just eight players. Joe Thorburn and Brooks Schnarr were each just a triple shy of hitting for the cycle.
Lounsbury 13, Courtland 7
GC: Colin MacDonald 3-3, Kent Collings 3-3 HR
Courtland: Tyler Lamb 3-4, Darryl Vandendriessche 2-4, Matt Heleniak HR
Article content
A seven-run third was key in G.C.'s victory.
Lounsbury 26, Haines 13
GC: Trevor Stuyt 4-4, Cheyne Sarafinchin 4-4, Stephen Deblaire HR, Thom Puhr 2 HR, Travis Nikin HR (Grand Slam), Cory Smith HR, Colin MacDonald HR
Haines: Dave Phillips 4-4 HR, Martin Klassen 3-4, Chris Durham HR
G.C. hit their limit of homers in this one. Thom Puhr and Travis Nikin each belted out a couple.
Men's B
Hit N Run swept unbeaten Miller Remodelling on Friday night to announce themselves into the conversation for one of the top four playoff spots in B. Sluggers won twice to take a solid hold of second place.
Hit N Run 24, Smitty's Electric 15
Hit N Run: Abram Klassen 4-4, Peter Klassen 4-4 2HR, Franky Klassen HR, Marten Klassen HR
Smitty's: Kevin MacDonald 3-4, Alex Dalby 3-4
Hit N Run got production from all of their order – the last batter, Peter Klassen, homered and tripled twice and scored four runs.
Sluggers 21, Team Awesome 5
Sluggers: Martin Fehr 3-3, Willy Dyck 3-3 HR, Daniel Klassen 3HR, Evan Bueckert HR
Awesome: Shane Hall 2-2, Chris Sanders 2-3
Daniel Klassen homered in all three plate appearances for Sluggers.
Miller Remodelling 15, Smitty's 8
Miller: Ryan Carroll 4-5, Nathan Boldt 5-5 HR
Smitty's: Chris Hass 3-3, Nick Joosse 2-2
Nathan Boldt homered and scored four runs for Miller.
Sluggers 15, Team Awesome 14
Sluggers: Pete Dyck 4-4, David Berg 4-4, Evan Bueckert HR
Awesome: Derek Buchner 3-4, Marty Hawel 3-4
Nick Neufeld's walk-off base hit won it for Sluggers in their three-run seventh-inning rally. Pete Dyck had a triple in the rally.
Article content
Hit N Run 14, Miller 9
Hit N Run: Franky Klassen 3-3, Marten Klassen 4-4 HR, Peter Klassen HR, Diedrich Klassen 2HR
Miller: Nathan Boldt 5-5 HR, Randy Miller 4-5, Justin Clapdorp HR
Diedrich Klassen hit a pair of three-run homers for Hit N Run.
Hit N Run 16, Miller 11
Hit N Run: Marten Klassen 4-4 2HR, Abe Wolf 3-3, Franky Klassen HR, Henry Peters HR
Miller: Nathan Boldt 3-4 2HR, Matt Ungar 3-4 2HR, Randy Miller HR, Justin Clapdorp HR
Marten Klassen homered and drove in four for Hit N Run.
Men's C
Pelicans moved closer to clinching first place after mercy wins over Jokers and John Beere last week.
Second place is still up for grabs as Morrison Realty Expos and Jokers are tied with six wins each. Expos have three games in hand on Jokers and they meet each other twice. John Beere are two wins back and have game in hand on Jokers.
Pelicans 22, Jokers 7
Pelicans: Matt Summers 3-3, Andrew Kamenar 3-3, Nick Barnim HR, Steve Leacock 2HR
Jokers: Brent Schooley 3-4, Chris George 2-3
Steve Leacock homered in consecutive at-bats and doubled once for Pelicans.
Pelicans 29, John Beere 12
Pelicans: Brandon Travers 5-5, Kevin Buchner 4-5, Adam Jensen HR
John Beere: Kalvin Smith 3-4 HR, Bob Long 2-3
Brandon Travers doubled twice and scored four runs for Pelicans.
Jokers 23, Norfolk Electric 7
Jokers: Justin Dygos 4-4, Dave Froese 3-3, Rob Stortz HR, Chris White HR, Ryan Copping HR
Norfolk: Ajay Johnson 2-2, Brent Sproule 3-3
Everyone in Jokers' order scored at least one run. Ryan Copping was a single shy of hitting for the cycle.
Article content
Men's D
Brew Jays are the only unbeaten team left in all of Tillsonburg slo-pitch as they have 12 victories on the season.
They were pushed to the limit by Tillsonburg Fire Safety/RNA Automotive, winning by just two.
Only four teams make it to the playoffs so this stretch of games will be important for J/E Bearing, Bad News Bears and Flying Flamingos who are all tied for the last playoff spot with three wins each!
Crusaders won two close ones over Bad News Bears later in the week.
Crusaders 29, Flying Flamingos 24
Crusaders: Jacob Bartsch 4-4, Abe Hamn 4-4, Abe Guenther HR, Henry Klassen 2HR
Flamingos: Jesse Hiebert 4-4 2HR, Jordan Crosbie 2-2
Everyone in Crusaders' order drove in at least two runs against the nine-man Flamingos. Abe Hamn drove in four.
Brew Jays 27, Flamingos 12
Brew Jays: Dylan Cremery 5-5 HR, Josh Mabee 4-4, Josh Knoflok 2HR
Flamingos: Pete Goertzon 4-4, Jesse Hiebert 3-3 2HR, Josh Hollis HR, George Goertzon HR
Josh Knoflok was a single shy of hitting for the cycle for Brew Jays.
J/E Bearing 24, Tillsonburg Fire Safety/RNA Automotive 23
J/E: Darren Swick 5-5, Jeff McKay 5-5
RNA: Dave Pocius 5-5, Chad Vigar 6-6
The eight-man Tillsonburg Fire Safety/RNA squad hung in until the last at-bat when Quinn Hopkins singled in the winning run for J/E.
Crusaders 23, Bad News Bears 20
Crusaders: Daniel Tiechroeb 4-4, David Klassen 3-3 HR, Abe Hamn HR
Bears: Michael White 4-4, Scott Beattie 5-5 2HR, Brian Beaumont 2HR, Darryl Beattie HR, Jordan White HR
Abe Hamn doubled, tripled and drove in five for Crusaders.
Brew Jays 22, Fire Safety/RNA 20
Brew Jays: Chris Dunn 4-4, Tom Csoff 4-5 Gary Csoff HR
RNA: Brady Silverthorne 3-3, Chad Vigar 4-5, Kevin Greenhead HR, Cole Vuylsteke HR, Dave Pocius HR
Matt Thiessen's two-run double provided the margin of difference for Brew Jays.
Crusaders 22, Bears 20
Crusaders: Henry Klassen 5-5 HR, Abe Hamn 4-4 HR, David Klassen HR
Bears: Scott Beattie 4-4 HR, Darryl Beattie 3-3 HR, Steve Vandergulik – Grand Slam
Abe Hamn was a double shy of hitting for the cycle for Crusaders.