Simcoe Sabres win second-place final at Gemini Cup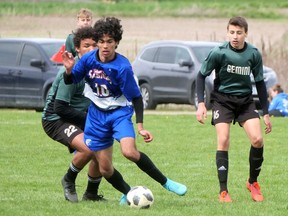 Article content
Simcoe Composite scored a clutch injury-time goal Friday to send their Gemini Cup second-place final soccer game to a shootout.
Article content
We apologize, but this video has failed to load.
Simcoe Sabres win second-place final at Gemini Cup
Back to video
The Sabres then outscored the host Glendale HS Gemini boys 4-2 to win it. Tyler Hofland scored the fourth and deciding goal.
"The whole tournament's great because we get to play teams that we don't see in our regular season," said Simcoe coach Caron Goodlett, noting they finished 6-0 in their league leading up to a May 9 playoff opener. "Normally it's just Brant-Haldimand-Norfolk.
"So the whole purpose here today was just to have fun and get to play different teams. It's not part of our regular season so it's just some extra fun.
"Everyone gets to play, everyone gets chances."
And everyone experienced a bit of drama in the final 10 minutes of the second-place championship game.
"That was crazy," Goodlett laughed. "It was fun."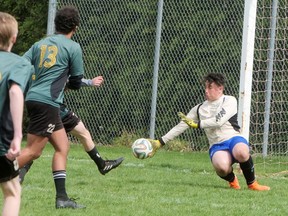 Simcoe had taken a 1-0 lead early in the second half on a goal by Zach Lingard. Time was running out when Glendale equalized at 1-1 on a corner-kick play, and suddenly led 2-1 a minute later scoring off a rebound, seven minutes before the end of regulation.
"I think they (Simcoe) looked deflated when we scored," said Gemini co-coach Andrew Sykes.
In stoppage time, however, Simcoe's Alex Jacobs scored to tie it up at 2-2, hitting a low shot into the left corner to send it to a shootout.
Glendale boys had opened the Gemini Cup with a 1-0 win over London South. St. Thomas St. Joe's edged Glendale 2-1, and Glendale defeated Aylmer East Elgin 3-1 to close out the round robin 2-1, second in their pool.
"All of our games were really close this year," said Sykes.
Article content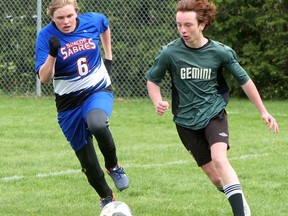 Simcoe Composite tied Ingersoll 1-1, lost 2-0 to St. Thomas Parkside, and defeated London Lucas 1-0 to finish 1-1-1 in the round-robin.
"It's just nice to have the Gemini Cup again," said Sykes. "It was off for a couple years because of Covid, obviously, and it has actually rained out before. So we're glad to get it back and running. It's always good to use these facilities here – some people don't understand how good Tillsonburg Soccer Park is. I've travelled around a lot of parks in southern Ontario, and this is a good one.
"Honestly, I couldn't have imagined a better day," said Sykes, pleased with the quality of the tournament. "All the teams came bright and early, the refereeing was good, the weather… it was a little subpar – it was windy."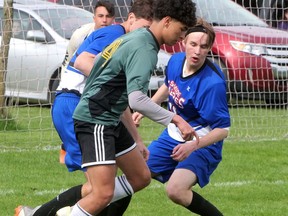 The Gemini boys, 0-2 to open in the TVRA South-East division, have a veteran varsity team this year.
"We took a few juniors, but the vast majority is made up of Grade 12s," said Sykes, who coaches with Laisa Gillis.. "It is kind of sad for the Grade 12s because we haven't had a team in the last couple of years and this is kind of their last (Gemini Cup) rodeo."