Local hockey: Veccia scores two, Harrogate turns pro, PJHL sets schedule
Mississauga Steelheads rookie forward Zander Veccia of Ridgetown has his first two-goal game in the OHL.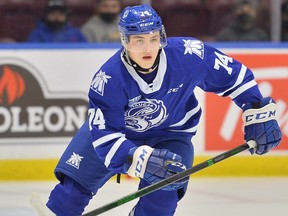 Article content
Veccia scores twice in Steelheads' win
Rookie forward Zander Veccia of Ridgetown had his first two-goal game in the OHL as the Mississauga Steelheads beat the Peterborough Petes 4-1 on Tuesday.
We apologize, but this video has failed to load.
Local hockey: Veccia scores two, Harrogate turns pro, PJHL sets schedule
Back to video
Article content
It was the third multi-point game for Veccia, 17, a third-round pick in the 2020 Ontario Hockey League draft.
He has six points and seven assists in 35 games.
The Steelheads have the OHL's best record at 24-8-1-3. They're No. 8 in the Canadian Hockey League weekly rankings released Wednesday.
Junior C season resumes next week
The Provincial Junior Hockey League will resume its regular season Tuesday, Feb. 1, after being shut down for nearly a month because of the province's COVID-19 restrictions.
The regular season was originally slated to end Sunday, Feb. 13, but it will now finish three weeks later on Sunday, March 6, in order to reschedule all postponed games.
The Dresden Kings have eight games left in their 32-game schedule, the Blenheim Blades have nine, and the Wallaceburg Thunderhawks and Wheatley Omstead Sharks have 11 apiece.
The Sharks will play the Mooretown Flags on Wednesday, Feb. 2, at Wheatley Area Arena at 7:30 p.m.
The Kings will return Friday, Feb. 4, against the Petrolia Flyers at 8 p.m. at the Ken Houston Memorial Agricultural Centre. The Thunderhawks will visit the Lakeshore Canadiens on Feb. 4.
The Blades' first game back is against the Mooretown Flags on Sunday, Feb. 6, at 7 p.m. at Blenheim Memorial Arena.
The full schedule is available at thepjhl.ca.
Harrogate joins German pro team
Forward Brendan Harrogate of Chatham was welcomed Wednesday by the ESC Kempten Sharks after signing with the German pro team.
Article content
Harrogate, 23, was in his third year at Western University, but he left the Mustangs when COVID-19 restrictions put the OUA season on pause.
The former Chatham-Kent Cyclone previously played three seasons in the OHL with Mississauga and Oshawa and one season in the British Columbia Hockey League with Penticton.
Harrogate is expected to make his pro debut this weekend in Germany's fourth-highest league.
The Mustangs lost four players to the pro ranks during the current OUA hiatus, which is slated to end Monday, Jan. 31, when training can resume. The regular season will restart Wednesday, Feb. 9.
Oilers send Griffith to AHL's Condors
Veteran forward Seth Griffith of Wallaceburg is back in the American Hockey League with the Bakersfield Condors after a brief stint on the Edmonton Oilers' taxi squad.
Griffith is the Condors' leading scorer with 33 points in 25 games.
He was tied for 10th in the AHL scoring race before Wednesday's games. He was also tied for fourth in assists (24).
Griffith, 29, didn't play any games with the Oilers after being called up last week, but he did play one game with them in December.
Cyclones choose 2022-23 coaches
The Chatham-Kent AAA Cyclones have chosen their head coaches for the 2022-23 hockey season.
The coaches are: Mark VanDeVelde, under-10 (players born in 2013); Derek Holmes, under-11 (2012); Jason DeGelas, under-12 (2011); Evan Merritt, under-13 (2010); Tim Verbeek, under-14 (2009); Colin Campbell, under-15 (2008); and Marc Swayze, under-16 (2007).