Jelsma's loving every moment in the OHL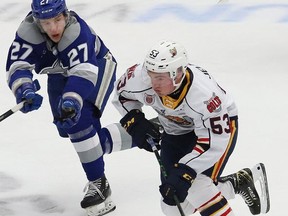 Article content
Beau Jelsma has been on a tear in the Ontario Hockey League.
Article content
From Jan. 16 to 27, the 17-year-old Barrie Colts rookie from Delmer, Ont., who began his minor hockey career in Tillsonburg, had a six-game scoring streak that included goals in four consecutive games and his first OHL hat trick scoring three goals against Owen Sound on the 27th.
We apologize, but this video has failed to load.
Jelsma's loving every moment in the OHL
Back to video
In that six-game stretch Jelsma had seven goals and four assists. As of Monday his season totals, so far, were 34 games played, 15 goals, 10 assists, 25 points, 16 PIM and plus 10.
"I'm playing with some really good guys – we've got a good connection going there with (Ethan) Cardwell and (Declan) Mcdonnell," said Jelsma last week. "We just seem to be in the right spot at the right time."
Since Jan. 16, the Colts, fifth in the 10-team Eastern Conference, are 5-2-1.
"We didn't have the start we wanted," said Jelsma, "but we kept with it and kept working hard. We have a really good hockey team. From right before the break until right after the break I think we were on a six-game winning streak."
Drafted by the Colts 55th overall in the 2020 OHL Priority Selection Draft, Jelsma came into the 2021-22 season playing on the fourth line at training camp.
"I just worked hard and I was fortunate enough to move up in the line-up. I was on third line for a while."

It was a huge step and really different, he said, going from the Buffalo Junior Sabres and Brantford U16 AAA in 2019-20 to Barrie this season.
He scored his first OHL goal in his ninth game.
"I was getting the opportunity, I just couldn't get it in. You've just got to get that first one. Once I got that one (against Mississauga on Oct. 29) it seemed like I got a lot more comfortable. There's bigger guys out there and you're playing in front of a lot bigger crowds, but I feel really comfortable now. I'm playing hockey, so I know what to do.
Article content
"Confidence is huge when you first start out. Confidence and consistency. I really learned as the season's been going on, you've just got to go out there and play hockey. Just play hockey like you love it – and I really do love it. Everything's fun. I love every moment of it."
There is some extra pressure to keep scoring, but Jelsma says he tries to ignore it.
"Obviously there's a little bit of pressure but I've just been playing hockey and working hard. My dad always told me, 'If you work hard, good things will happen.'"
When he was drafted in April 2020, Jelsma had said, "I've been waiting my whole life, since I was a little kid to play in the OHL. Through my whole life, every single hockey year, my goal was the OHL."
Now he's living the dream.
"Definitely," Jelsma nodded. "I tell my parents all the time, I can't believe I'm actually playing in the OHL. It really is a dream come true."
Now there is a new dream – playing in the National Hockey League – and 2022 is Jelsma's NHL Entry Draft year.
"It's definitely tough losing last year (the OHL season due to the pandemic) but honestly I just go out and play hockey. Scouts are always there, but I just block them out and play my game. That's definitely my long-term goal to play in the NHL. And if you get drafted at the end of the year, that's great, but I'm more focused on winning. I love winning."
On Jan. 12, Jelsma (5'10" 175 lbs) was ranked 137th in the NHL Central Scouting Mid-Term Rankings for North American skaters – and that was before his offensive game exploded.
Article content
Jelsma's teammate Hunter Haight had been ranked 47th in the same Jan. 12 entry draft ranking. Haight, from Strathroy, currently has 20 points in 30 games.
—
In the summer of 2021 Barrie announced Marty Williamson was the new coach and GM, along with the return of assistant GM Rob Stewart and assistant coach Taylor Carnevale. They added Chris Dennis as an assistant coach and David Belitski as director of goaltending.
"They are great, I'm learning so much from them," said Jelsma. "They hold us accountable when we make our mistakes but then also give us some great teaching points. Yeah, they're great coaches."
—
Jelsma's Barrie teammates have been just as hot – defenceman Brandt Clarke was OHL player of the week Jan. 24-30 with nine points in four games and Nathan Allansen had eight points in four games. It's the first time this season a Barrie player has received the player of the week award.