Football has returned to Norfolk County's high schools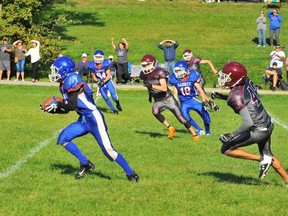 Article content
High school football has returned to Norfolk County for the first time in nearly two years.
Article content
Two games involving teams in the newly-constituted Brantford-Haldimand-Norfolk Varsity Football League squared off in Simcoe on Sept. 24.
We apologize, but this video has failed to load.
Football has returned to Norfolk County's high schools
Back to video
In the early tilt, the Delhi Raiders defeated the Holy Trinity Titans at Holy Trinity Catholic High School 15-14.
The late match featured the Simcoe Sabres playing host to the Pauline Johnson Thunderbirds of Brantford. That one was a defensive chess match where neither side took any men. The final score at the buzzer was 0-0.
"There's a little bit of rust, and then we had only three weeks to prepare for guys who haven't played in a while," said SCS head coach Terry Oosting.
For their part, the Thunderbirds are coached by SCS alumnus John Macdonald, a member of a Sabres' squad in the 1990s that won two Norfolk Bowls.
"It's nice to be back," Macdonald said. "I have a lot of good memories of this field."
Macdonald went on to play several seasons with the Hamilton Tiger Cats of the Canadian Football League, serving in a defensive tackle capacity.
"It was a sloppy game for both sides," Macdonald said afterward. "It's going to take time for both of us to get our bearings. It's been 700 days since there's been any football."
Macdonald and others got a laugh when his father – Simcoe dentist Al Macdonald – did a quick run across town to the Apple Place on the Queensway East for several boxes of apple cider doughnuts – the official doughnut of Norfolk County. Dr. Macdonald did so because the tasty treats look like big fat zeros.
Article content
Defence often dominates in football, but rarely to the extent it did at SCS. As the score indicates, no one could get anything going.
SCS was in a position to snatch the win on the last play at the buzzer with a quick kick from the Thunderbirds' 15-yard line for a rouge into the end zone. However, as happened so frequently throughout the game, there was a bad snap and nothing came of it.
"It was a difficult game," said Sabres inside linebacker Elijah Bertrand. "I feel both offences could've played better. The defences, though, were great."
Bertrand added that Friday's effort was something the Sabres can build on, noting that the team spirit and camaraderie necessary for a successful season are in place.
"We played as a team," he said. "There is nothing more important than that."
The local varsity football loop consists of five teams. Four teams will play each week during the regular season, meaning one team will have to sit out each cycle. Sitting idle this week but ready to suit up next week are the Waterford Wolves of Waterford District High School.