Delhi Raiders claim Mud Jug bragging rights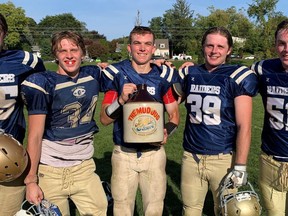 Article content
The Delhi Raiders ended Week 2 of the local high school football season alone in first place by virtue of a 19-0 win over the Simcoe Sabres in the teams' annual Mud Jug game on Oct. 1.
Article content
Conditions for football were anything but muddy this day, with brilliant fall sunshine and warm temperatures throughout. Instead of the teams slip-sliding their way to a sloppy finish, the Raiders flashed some precision play en route to a convincing win.
We apologize, but this video has failed to load.
Delhi Raiders claim Mud Jug bragging rights
Back to video
Raiders coach Dave Leatherland has logged nearly 25 years at the helm of the Delhi football program. At the end of Friday's match, he demonstrated why he's universally regarded as a class act.
Friday's result was the Sabres' second straight shutout to start the season and Leatherland knew his cross-county rivals could do with some encouragement.
When the teams lined up at centre field afterward, Leatherland gave the Sabres a pep talk from his side of the 50-yard line, telling them they put in a good effort and encouraging them to continue working on their plays.
"Good luck Sabres with the rest of your season," Leatherland said.
As for his team's performance, Leatherland is pleased to have two wins in two starts considering how many new players he has to work with.
"There is so much teaching to do with the full year off and no junior football," he said. "So many young players who want to play but they have no experience. It's fun to see the improvement in the kids. This is what high school football is about – seeing the smiles on the faces of the kids."
Large crowds attended the games on Oct. 1. The day started with the Wolves of Waterford District High School playing host to the Holy Trinity Titans of Simcoe. Leatherland suspects the turnout had something to do with the normalcy a fall game of football represents after more than a year of pandemic living.
Article content
"Everybody has missed a lot of things, such as watching your kids play on a beautiful day like this," Leatherland said. "It's what it's all about – watching games with your friends, taking pictures, having fun."
For his part, Sabres coach Terry Oosting is focused on his team's lack of scoring. Simcoe did string together a couple sustained offensive drives in the second half of Friday's game that could easily have ended with points on the board, so the Sabres do have something to build on.
"Some of it is working; some of it is not," Oosting said. "We have to work on a lot of things."
In Waterford, the Titans rumbled to a 23-0 win over the Wolves.
Titans coach Leroy Foster said last month's 15-14 loss to the Raiders aided Holy Trinity's cause in Waterford because it helped them get back into the football groove after a two-year hiatus. For their part, the Wolves had gone nearly 700 days without football.
"We feel we had a bit of an edge," Foster said. "That first game of the season – there's going to be some jitters."
The Titans did well in Waterford against a traditionally strong football program despite the absence of quarterback Celeb Davidson, who is nursing an injury.
Subbing for Davidson was one of his wide receivers – Chase Bacher. Bacher made the most of it, scoring two touchdowns on quarterback keepers from short yardage. Bacher's second score featured some swagger and showmanship.
"When I go for the keeper, I hope my line blocks for me and opens a hole," Bacher said. "When they do that, it's a great feeling.
Article content
"On my second, someone on the defensive line asked `Is it a quarterback keeper?' and I said `Yeah, it is,' then right up the middle."
Wolves coach Andrew Bunner tipped his hat to Holy Trinity, saying the Titans came well prepared.
"They had a better plan than we did and they executed it," Bunner said. "Our best players – our senior leaders – stayed positive and our defence didn't back down."
Friday's Mud Jug match will be the only regular season game in Norfolk this fall with a special theme. Leatherland confirms that Delhi's popular Friday Night Lights event has been postponed for a second year due to the COVID-19 pandemic.
The annual Pumpkin Bowl on the Saturday of Pumpkinfest in Waterford is also off this year, also due to the pandemic. The Wolves play a regular game this Friday in Delhi, with kickoff slated for 2 p.m.
For their part, the Titans travel to Brantford Friday – also for a 2 p.m. start – versus the Thunderbirds of Pauline Johnson Vocational and Collegiate Institute. The Sabres will sit out Week 3 by virtue of a bye.