Hit 'n Run evens Men's B series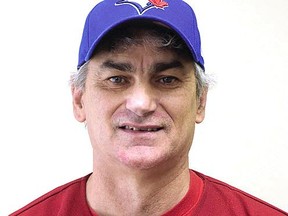 Article content
Well, we are now into the exciting part of the Tillsonburg slo-pitch season where every game matters.
Article content
Ladies A have their two entrants that will vie for the title, and five teams face elimination this week in Men's Slo-pitch.
We apologize, but this video has failed to load.
Hit 'n Run evens Men's B series
Back to video
Men's A
Foldens Machine Works were one win away from knocking off regular season champs Haines Roofing after winning by three in the lid lifter and a mercy win in the second.
Courtland Landscape and Grounds easily defeated G.C. Lounsbury in their opener.
Game 1
Foldens Machine Works 22, Haines Roofing 19
Foldens: Steve Derks 4-4, Matt Evans 4-4 HR, Josh Stubbs HR, Bryan Deblaire HR, Mike Wencel HR, Clayt Stubbs 2HR, Mike Supinski HR
Haines: Kyle Smith 4-4, Martin Klassen 4-4 2HR, Travis Horvath 2HR, Dave Phillips HR, Chris Durham HR
Clayt Stubbs homered twice and scored four runs for Foldens.
Game 2
Foldens 23, Haines 8
Foldens: Billy Wilson 4-4 HR, Bob Evans 4-4, Bryan Deblaire 2HR,  Mike Wencel HR, Steve Derks HR
Haines: Dave Phillips 4-4 4HR, Johnny Klassen 4-4, Dan Clark HR
Foldens plated seven in each of the second and third innings. Mike Wencel had a three-run homer in the second.
Game 1
Courtland Landscape and Grounds 26, G.C. Lounsbury 16
Courtland: Joe Thorburn 4-5, Trevor Oakes 4-5, Brooks Scharr 2HR, Nathan Peacock HR, Darryl Vandendriessche HR
GC: Joe Fansher 3-4, Kent Collings 3-4
Courtland rolled a pair of sevens scoring the limit in the second and fourth. Darryl Vandendriessche and Nathan Peacock each hit homers in the fourth.
Men's B
The series between first-place Miller Remodelling and Hit N Run is all square after Hit N Run won by four Friday night. Miller Remodelling won the opener.
Article content
Sluggers are two games up on Team Awesome winning the first by eight and the second by 10 picking up 28 runs in each of their wins.
Game 1
Sluggers 28, Team Awesome 20
Sluggers: Nick Neufeld 4-4 HR, Evan Bueckert 4-4 2HR, Pete Dyck HR, Frank Harms HR, Daniel Klassen 2HR
Team Awesome: Darryl Whittington 4-4 2HR, Rob Smith 3-4, Dan MacRae HR
Nick Neufeld had a big night for the Sluggers hitting for the cycle. Evan Bueckert had two homers and a triple.
Game 2
Sluggers 28, Awesome 18
Sluggers: Willy Dyck 4-4, Frank Harms 4-4, David Berg HR, Billy Redecop HR, Evan Bueckert HR, Cam Bueckert HR
Team Awesome: Chris Sanders 5-5, Matt Davis 3-3, Shane Hall HR, Derek Buchner HR
Sluggers scored multiple runs in every inning but the second. Willy Dyck scored four runs for the winners.
Game 2
Hit N Run 23, Miller Remodelling 19
Hit N Run: Abe Klassen 4-4 HR, Diedrich Klassen 4-4 2HR, Abram Klassen HR
Miller: Brent Konecny 4-6, Matt Ungar 4-5, Nate Boldt HR, Ryan Miller HR, Randy Miller HR, Nathan Boldt HR
Abe and Abram Klassen were each a triple shy of hitting for the cycle for Hit N Run.
Men's C
Jokers evened their series with Pelicans Friday night, winning it with a walk-off grand slam. Pelicans took the opener Tuesday winning by five.
Morrison Realty Expos won a pair over John Beere coming from behind to take Game 1 and winning by mercy Thursday.
Game 1
Pelicans 16, Jokers 11
Pelicans: Matt Summers 3-3, Shawn Hopper 3-3, Steve Leacock 2HR, Adam Jensen HR
Article content
Jokers: Brent Schooley 4-4 2HR, Chris George 3-3, Chris White HR, Brian Simmonds HR
A four-run sixth keyed Pelicans win. Nick Barnim drove in two in the rally.
Game 2
Jokers 21, Pelicans-18
Jokers: Matt Smith 4-4, Brian Simmonds 5-5 HR (Grand Slam), Justin Dygos HR, Brent Schooley HR
Pelicans: Steve Leacock 4-4, Matt Summers 4-4, Andrew Kamenar HR
Jokers won this one on Brian Simmonds' one-out walk-off grand slam.
Game 1
Morrison Realty Expos 12, John Beere 10
Morrison: Jayden King 3-3, Adam Devlin 2-2, Christian Devlin HR, Will Hanson HR
John Beere: Kalvin Smith 3-3 HR, Jesse Anderson 2-3
Morrison trailed until the bottom of the fourth when they rallied for five runs. Christian Devlin had a two-run homer and Dave Weaver had an RBI triple.
Game 2
Morrison 26, John Beere 11
Morrison: Adam Devlin 4-4, Jayden King 4-4 2HR, Christian Devlin HR, Andrew Garnham 2HR, Will Hanson HR
John Beere: Bob Long 3-3, Theo Karagias 2-3, Shawn Brooks HR, Cody Long HR, Carey Winkworth HR
Andrew Garnham had two homers and drove in seven for the winners. Jayden King drove in five.
Men's D
Brew Jays are up two games on the Bad News Bears, winning the second one by six after winning by just two in the opener.
Tillsonburg Fire Safety/RNA Automotive have a 2-1 lead over Crusaders.
Game 1
Brew Jays 17, Bad News Bears 15
Brew Jays: Dan Konrad 4-4, Josh Mabee 3-3
Bears: Mike White 4-5, Brian Beaumont 5-5
Bears scored 12 runs late but Brew Jays held on for the win. Lead off batter Dan Konrad scored three runs on the night for Brew Jays.
Article content
Game 2
Brew Jays 25, Bears 19
Brew Jays: Owen Smith 4-4, Josh Knoflock 3-3, Devon Schultz 2HR
Bears: Cole Palen 5-5, Scott Beattie 5-5 2HR, Brian Beaumont HR, Jake Superales HR
Devon Schultz homered twice and drove in five for Brew Jays who remained unbeaten on the season.
Game 1
Tillsonburg Fire Safety/RNA Automotive 9, Crusaders 4
Fire Safety: Kyle Mudford 2-4, Devon MacDonald 2-3
Crusaders: Abe Bartsch 3-3, Johnny Guenther 2-3
A pair of four-run innings keyed Tillsonburg Fire Safety's win.
Game 2
Crusaders 23, Fire Safety/RNA 13
Crusaders: Henry Klassen 4-4 HR, Ricky Klassen 4-4, David Klassen HR, Abe Hamn HR
Fire Safety/RNA: Brady Silverthorn 3-3, Chad Vigar 4-4 2HR
David Klassen and Abe Hamn each drove in four for Crusaders.
Game 3
Fire Safety/RNA 18, Crusaders 10
Fire Safety/RNA: Justin French 5-5, Chad Vigar 4-5
Crusaders: Abe Hamn 4-4, Benny Klassen 2-3
RNA won this courtesy of back-to-back six-run innings.