SPENCER: Take care of your nervous system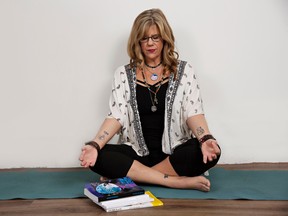 Article content
The fall was looking promising. Normalcy was on the horizon. Numbers dropped low, vaccine rates elevated high. Hope was in the air.
Advertisement
This advertisement has not loaded yet, but your article continues below.
Article content
Then another variant. And although Omicron doesn't appear to be as serious with illness, the rate of transmission is fast with the potential to overwhelm the health care system, yet again.
We apologize, but this video has failed to load.
SPENCER: Take care of your nervous system
Back to video
Is our "pandemic fatigue" being pushed to even higher levels?
The nervous system has taken a beating. There are two parts to the nervous system: sympathetic and parasympathetic. When faced with imminent physical danger, the human body's sympathetic nervous system triggers our "fight-or-flight" response. But it's more complicated than that.
Dr. Curtis Reisinger, a clinical psychologist at Zucker Hillside Hospital, told New York Magazine the 'fight or flight' response to stress is oversimplified, and that there are other ways that humans have evolved to adapt to stress.
In fact, there are six responses to stress:
Fight: Fighting a threat.
Flight: Fleeing a threat.
Freeze: Freezing and not doing anything in response to a threat.
Flooding: Being flooded with emotions in response to a threat.
Fawn: Co-operating or submitting to one's threat.
Fatigue: Feeling tired and/or sleeping in response to a threat.
Since the start of this pandemic we have been on different levels of stress. It has been many months of stress and people are crumbling.
So how can we take care of ourselves better as this pandemic runs its course?
Each of us individual with what works for bringing more ease. But triggering the parasympathetic nervous can be a game changer.
Advertisement
This advertisement has not loaded yet, but your article continues below.
Article content
The parasympathetic nervous system (PNS) predominates in quiet "rest and digest" conditions while the sympathetic nervous system drives the "fight or flight" response in stressful situations. The main purpose of the PNS is to conserve energy to be used later. When the parasympathetic nervous system (PNS) is activated, it slows our heart and breathing rates, lowers blood pressure and promotes digestion. Our body enters a state of relaxation, and this relaxation breeds recovery.
So how can we activate the PNS?
Remove as much stress as you can. If it makes you feel anxiety watching the news, then turn it off. If having conversations with certain people on certain topics, upset you, then quit having them. Identifying your stressors is a start and then minimize and eliminate.
Unload. Talking with someone you love can be helpful and supportive. Unload your stressors and walk through for solution finding with your support team.
Go within. Mindfulness practices such as breathing techniques, yoga, mediation and more are all scientifically proven to assist to regulate emotions, improve stress management skills and activate the PNS.
Nature. Studies have shown that nature improves mood and self-esteem and reduces blood pressure. Walking within a natural environment has been suggested to alter autonomic nervous system control. In the elements, we can feel more grounded and aligned.
Relaxation response. Anything that you know brings a relaxation response such as massage, reading a book, or a hot bubble bath.
Pandemics always run their course. This won't last forever. Until then, this holiday season and every day, take inventory on how you are feeling in your body, mind and spirit and take measures to keep yourself in balance.