SPENCER: Big storm and moral of the story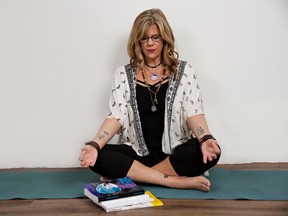 Article content
Sunday night ushered in an unexpected extreme weather event.
There were thunderstorm warnings, but most of us have seen those warnings all summer, and sometimes they even brought the storms. But what we experienced Sunday was nothing like most of us have ever seen.
Article content
The thunder rolled at a continuous quick pace for several minutes. The strobe light show of sheet lightning was peppered with startling bolts. The rain was sideways and we couldn't see the other side of road. It was thick with winds moving the water up to 90 kph. We sat in the dark with a power outage caused by multiple trees down, hydro wires exposed and numerous fire calls in the community, according to Tillsonburg Fire & Rescue Services.
We apologize, but this video has failed to load.
SPENCER: Big storm and moral of the story
Back to video
We were all in this together. On social media, many people shared their experience of fear and wonderment at the powerful and fierce display put on by Mother Nature.
Early Monday morning, my friend was out for a walk and called me. "Your business patio is a mess." She took some pictures showing our patio furniture tossed and flown across the lawn, a few branches down and several parts of our new fence ripped off and hanging.
My first reaction was sadness and a little defeat. The patio was new. I wondered how much damage and how much it would cost. I could feel a lump swelling in my throat.
So, I decided to meditate. I closed my eyes and took some slow, intentional breaths simply observing my thoughts and feelings. I gave them room to be and then after a few minutes, I shifted gears. I decided that I can handle whatever this moment is handing to me and that I trust I will be just fine, no matter what.
The more I tapped into mindful awareness of the present moment reality, intentionally took some slow, deep breaths and shifted and expanded my perspective, I could feel the wave of big feelings passing.
Article content
I decided to share the pictures with a few family members and friends. I also sent to my work team.
Mondays, my business, Indigo Lounge Wellness Centre & Eatery, is closed. Meaning, it was the Indigo Lounge team's, day off. Their reply to the pictures? "How can we help? Be right there!"
We made the plan to meet at 10:30 a.m. I had some trouble finding our screwdriver and after finding it, I arrived at 10:32 a.m. Three members of our team were already there and had put all the lawn furniture back in its place, and lifted and fixed the fallen lawn divider wall. Another team member arrived and us five women held up fencing as we screwed the fence back together… together.
We seriously had the whole patio (that looked like a tornado went down the middle of it) back together in no time. There was minimal damage and next to nothing to replace.
The moral of the story?
Sometimes we play the worst-case scenarios in our head and get ourselves all worked up for nothing. Collecting all the facts before we react is a good reminder.
Mindfulness and mediation are natural, quick and powerfully effective stress reducers.
We are all in this together. There can be so much divisiveness in our world and this storm didn't care of anyone's opinions, pandemic perspectives nor political stance. We were one under nature's electric storm.
Kindness, compassion and support makes everything easier, if not better. I was so grateful for the team's willingness to come in on the day off to help out.
Teamwork is a powerful force. The storm was powerful and lasted about an hour or so. This team, working together, had the after-shock fixed and realigned in a third of the time. Working together as a team increases work efficiency and shows a powerful supportive feeling.
We have the best team ever and I am deeply grateful.
(Kelly Spencer is a business owner, mindfulness specialist, meditation and yoga teacher and wellness author. If there is a topic you would like to see in the Happy Healthy YOU column, please email kelly@indigolounge.ca)