Skunks can be educational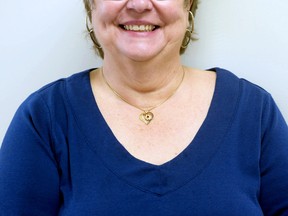 Article content
Part of being an Authorized Wildlife Custodian, volunteering under the Ministry of Natural Resources and Forestry, is educating the public about the wildlife around us and the ecosystems they need to survive.
Article content
As we continually destroy the habitats they live in, they move into urban areas with us, so how do we learn to live with them? PowerPoints with humour are effective but what really makes the lightbulb go on for the audience is when you produce one of the animals, alive, right in front of them
We apologize, but this video has failed to load.
Skunks can be educational
Back to video
For our new readers, know that I am The Skunk Lady. I have been a rehabilitator for about 40 years, at first doing many small mammals, but as I aged and collected more assorted syndromes, aches and pains, I switched to just doing skunks as they are easier, cheaper, can't climb, and make great educational animals.
Every year we get orphans that have been attacked (usually cats, dogs or humans), injured, or have malnutrition severe enough it causes a host of medical problems. Some are born blind, malformed or diseased. It's amazing, but wildlife pretty much gets the same diseases as humans – diabetes, epilepsy, hypothyroidism, Down's Syndrome, the list goes on.
Many of these animals cannot be released into the wild as they will die, so what to do with them? Well, if you don't know the species or actual animal, the practical outlook would be to put them down. However rehabbers usually know the capabilities of both. The one problem with the 'damaged/diseased' animals we get is they often have other underlying medical problems and don't live long.
Over the years many people have met the educational skunks I have been blessed with at Turtlefest, area home shows, summer camps, retirement centres, clubs, churches, and schools around Ontario. Currently we have Shimmering Hope, aka Shimmy, and as of last week we officially welcomed Slider Comfort to the fold.
Article content
Slider is a paraplegic with affected front legs. Her history led us to believe the nerves were damaged in a cat attack, but as only her legs were affected, we will probably never know the real cause. At four weeks of age Slider did her best to slide along the bottom of the cage to play with the other babies. She was feisty and determined even then. She is now over three months old and slides front or backwards, sometimes hopping like a bunny.
Like a humans who use their feet to paint or eat, she has learned to use her back legs and mouth to do what is needed. She requires virtually no care, although we do physio on her front legs and massages. One leg works a bit now, offering a bit of stability when needing to stand. Most important is her sweet disposition. Their lives have purpose and are good.
Once she is recovered from descenting and spaying she will join Shimmy doing educational gigs. Although all were cancelled when COVID hit, we now have two virtual gigs being set up – a Nature London's meeting and the first-ever two-day Wildlife Conference (online) by Hero's 4 Wildlife. I will do two PowerPoint on skunk rehabilitation and the skunks will be the stars. I have learned WC Fields was correct, 'Never work with animals or children." They steal the show!
lbeechey@rogers.com