Fire circle Zen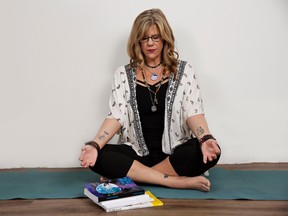 Article content
As I sit up north this past week, with daily fire pit gatherings, a calm and ease come over me. A connection to the elements as well as to the circular congregation to eat a meal, make smores, share stories or stare aimlessly into the dancing flames.
Article content
There is a returning to our roots when we gather around a campfire. Losing ourselves under the big starry skies of summer, escaping into a distraction-free zone. There is a magic that happens.
We apologize, but this video has failed to load.
Fire circle Zen
Back to video
We have been gathering in circles at a seat on a log around the fire pit for as long as fire has been around. There is a generational vibe that comes with it, knowing our ancestors did the same while wondering what they would talk about.
One thing for sure is, the conversations are a bit deeper, the stories are a bit funnier and you are guaranteed to learn some new adventure someone encountered. A bond is captured in the campfire circles.
The distractions of the news and from our phones and other devices are often left behind. We often learn on a deeper level about some one we have known for years as the glint and glare of the flames become our visual entertainment while we listening to each other or the sounds of the night.
Campfire food with the gathering of chairs circling the pit has a taste that is special. Creating a meal over the perfectly-heated coals like the generations of past did, takes us back to flavours like none other.
Inevitably, when the meals have been consumed and the stories have run dry for the night, there comes a point when silence falls upon the group. The stars of the night saturating the sky, or the lack of stars, give an indication of the weather to come. The chairs scooch in a bit closer to connect with the warmth at the centre of the circle, as the temperature in the air drops a couple of degrees in a palpable way. The fire trance takes over. The flame is hypnotic.
And while we are capturing this opportunity to live mindfully in the present moment, we are mesmerized and meditative and temporarily transported to a moment of mindful Zen.
Gathering with kindred spirit, disconnecting form the confusion of our world, connecting with nature and finding a little piece of Zen around the flames is an accessible and powerful medicine for us all whether in our backyard or northern Ontario.
kelly@indigolunge.ca