Finding your roots at the Tillsonburg Library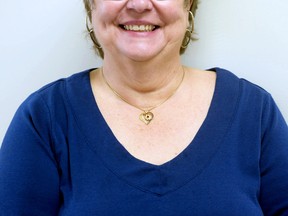 Article content
Interested in your genealogy but have no idea what to do?
Article content
You might enjoy checking in with Family Tree Nuts, a group aptly named due to becoming nuts about their family trees – and every family has their share of nuts in it!
We apologize, but this video has failed to load.
Finding your roots at the Tillsonburg Library
Back to video
Ryan at the Tillsonburg Library invites everyone on the last Tuesday of every month at 1 p.m. for genealogy discussion and presentations! The first meeting back is Sept. 28 at 1 p.m. on Zoom. Meetings will be virtual for the foreseeable future, however when possible they will be moving back into the library program room. Contact Ryan, Local History Technician, Tillsonburg (Oxford County Library) 519-842-5571 or email rvanleeuwen@ocl.net.
At their Oct. 26 meeting, I will be presenting a power point on a few pioneers discovered during the restoration of the Tillsonburg Pioneer Graveyard a few years ago called Tombstone Tales.
There is plenty to do at Annandale NHS from September to December and they hope to offer some of the September and October programs on the lawn. Registration numbers are limited. If the weather is inclement they will use the accessible Program room. Remember to dress appropriately for outdoors and bring along your water bottle. Book early. All events need to be registered either online via the Connect to Rec 2.0 website (https://www.tillsonburg.ca/en/live-and-play/connect2rec-upgrade.aspx) or call 519-842- 2294.
Pre-booked tours of both the first floor of Annandale House and the Pratt Gallery are available Monday-Friday from 9 a.m. to 3 p.m. Mask wearing and social distancing restrictions are still in place.
Article content
Sept. 10 to Oct. 31 in the Pratt Gallery, Annandale NHS and Oxford Creative Connections present Small Wonders Art Show & Sale, where all pieces of art are no larger than 12 by 14 inches! Twenty per cent of the profits go to the Annandale House Trust!
Nov. 29 to Jan. 9 in the Pratt Gallery see the "All We Wanted for Christmas – Toys and Games from the Museum's Collection" exhibit. Come and learn about the history of toys and games!
Although the museum remains free to members of the Tillsonburg & District Historical Society, the general admission prices have increased for 2021. Child (Under 6) Free; Child (Ages 6-11) $2.50; Students (12-18) $3.50; Adults (18-59) $7: Seniors (60+) $5.75; Family (two Adults, two Children): $14; Pratt Gallery $2.50.
Adults and children are invited to try something different in the Program Room this fall. Note the separate times.
Friday, Sept. 24 – Pebble Art Fun. Learn and create art using pebbles and other natural materials on a PA Day. All supplies and instruction included ($20+tx/person). Children: 9-10:30 a.m. for ages 4-8 and 11-12:30 for ages (9-14-plus). Adults: 1:30 to 3 p.m.
Oct. 6 on the lawn – Painted Gourd Workshop with local artist Linda Yeoman. You get five small gourds to create a Thanksgiving centrepiece. Adults 1 p.m. to 3:30 p.m. All supplies and instruction included for $50 plus tax. Minimum of 10 must register prior to Sept. 29. Linda's website is www.lindayeomanfineart.weebly.com/gourds .
Article content
Oct. 30, 10 a.m. on the lawn – Family Pumpkin Carving Workshop. Have fun carving your family's pumpkin at the family Pumpkin Party. All materials supplied. Cost per family $20 plus tax
for one pumpkin – additional pumpkins $5 each.
Nov. 12, 1:30 p.m. to 3 p.m. Stenciling Workshop where you make stencil artwork from Annandale House ceiling stencils! All supplies and instruction included. Children's PA Day: 9-10:30 a.m. for ages 4-8, and 11-12:30 p.m. for ages 9-14-plus. Adults: 1:30-3 p.m. Cost $15 plus tax.
Dec. 17, 1:30 p.m. to 3:30 p.m. – Poinsettia Tea and Christmas Tour with Christmas goodies and a guided tour of Annandale House decorated for the Christmas season. A poinsettia is your Christmas gift ($15 plus tax/person).
Come learn how to make your own Christmas Ornament (all supplies and instructions included) on Tuesday, Dec. 21. Children: 9-10:30 a.m. for ages 4-8 and 1-2: 30 p.m. for ages 9-14-plus. Cost $15 plus tax. Also Dec. 22 for adults: Session 1 is 10-11:30 a.m. and Session 2 from 1-2:30 p.m. Cost $15 plus tax.
Please note that all programs are subject to change based on board of health and provincial COVID-19 protocols and mandates.