April 1? It's no joke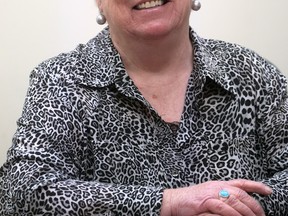 Article content
How many folks got pranked on April 1?
Article content
We all need to laugh and make us feel just about normal, whatever that may be. I remember times when the top fell off the salt shaker, alarms were set early and even toilets being shrink wrapped.
We apologize, but this video has failed to load.
April 1? It's no joke
Back to video
Usually, the joke was harmless, annoying likely, but nevertheless harmless. It was all in good fun.
We don't have much to joke or laugh about these days so we have to find it wherever we can. I am a glass-half-full, the-sun-will-come-up, always-a-silver-lining, after-the-storm-comes-sunshine and I-am-still-here kinda person so rarely find myself dwelling in the misery. I think it's a choice but that might be because I have not suffered your misery and mine have been easier to overcome.
Or it could be that I feel life is just too short to be unhappy for very long. Oh, I think a complaint or two, a minute of whining and a couple foot stomps are OK as long as it's over quickly. A good cry can be quite beneficial, soothing and cleansing but then it's time to blow your nose, wash your face and get on with it.
I don't think we were put here to be miserable. Life, liberty and the pursuit of happiness are an American thing. It is not a constitutional right but it is recorded in their Declaration of Independence. The Canadian version states peace, order and good government with Section 7 of the Charter of Rights guaranteeing life, liberty and personal security of all Canadians. If you break it all down I think if we strive for peace, order, good government, life, liberty and personal security and we afford the same to everyone else we will find our version of happiness.
Article content
It is said to know you are not alone, that others understand your issues and can offer support is very helpful. I think that is so true. It does give comfort to talk to people who have encountered the same concerns or confusion in their lives. It provides essential information on how to pilot through to find a path that is successful.
I am grateful to know others are as confused as I am and have questions on how to navigate life these days. Thank you to all the folks who emailed me offering kind and understanding words. Many of us are having a hard time plotting a course through the chaos that is today. I appreciate the personal experiences and comparisons many of you shared.
Some of these new words might make you wonder what I was watching or reading?
Eruct: emit stomach gas noisily through the mouth; belch.
Incubus: according to mythology and legend, a demon in male form, who lies upon sleeping women in order to engage in sexual activity.
Bloviating: talking at length especially in an inflated or empty way; verbose; windy.
Scrumbling: modify a painting by applying a very thin coat of opaque paint to give a softer, diffused effect.
twocentsworth40@gmail.com