Climate change endangers historical sites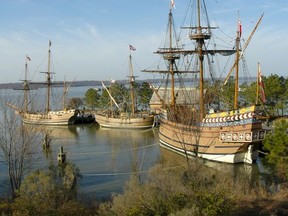 Article content
As a history buff, I especially like travelling to historical sites to walk on the ground where significant events occurred.
Article content
We apologize, but this video has failed to load.
Climate change endangers historical sites
Back to video
There is something magical about being in a place that you have read about. It gives you a greater sense of place and time and helps you to gain a greater understanding of the events and personalities of historical events.
One of my favourite places to visit is Jamestown, Va. Founded in April of 1607, this is the site of the first successful settlement of European people. It is true that before the Jamestown settlers there were others from Europe, such as the Viking settlements in Newfoundland. But they had little impact on the society that we have built today.
Jamestown celebrates the tenacity and, let's face it, foolishness, of the company of adventurers who set out, leaving everything they knew behind and striking out for the New World. But it is important to remember they never would have survived without the help of the Powhatan Indigenous peoples during the first few years. Relations then took a sour turn and conflict soon developed. It was a conflict that the Indigenous peoples were fated to lose. Warfare, diseases such as measles and smallpox, and increasing numbers of European peoples overwhelmed the Indigenous society.
These were different times with different ideas of right and wrong.
Jamestown is also a notable site in the history of black slavery as the colonists learned to cultivate tobacco, a lucrative crop. In 1619, Portuguese slavers brought 24 Angolans as slaves. The English colonists purchased them and began a 250-year blight of black slavery in North America.
Article content
Today, Jamestown is a pleasant tourist site run by the national parks system. A slightly sanitized version of the Jamestown story is told under the guidance of young archeologists, who interpret the history through a modern lens. You can visit actual archeological digs and watch as artifacts make their first appearance in 400 years.
The entire area reeks of history. All within a 50-kilometre radius are Jamestown, the first long-term settlement, Williamsburg, a former state capital, Civil War battlefield and living history museum, and Yorktown of Revolutionary War fame.
If you want to visit this area, you had better plan to do so soon as the water level of Chesapeake Bay is rising and it is predicted that the historic site will be underwater in the next few decades. This is due to melting ice on Greenland and the Antarctic continent which is spewing water into the oceans, dramatically raising their level.
This is a trend that will continue, according to the National Oceanic and Atmospheric Administration, which has documented a rise of 20 to 23 centimetres since 1880 and also say that high-tide flooding has increased by 900 per cent in terms of frequency in the past 50 years.
Jamestown is not the only historic site in danger due to climate change. Indeed, every historic site that is close to the ocean will have to face this problem in the next hundred years. As most early settlement took place near the oceans, as most of our settlement is today, the majority of our cities are in danger as well.
Two million dollars has been raised to build a seawall to hold the waters back from Jamestown, but it is only putting a Band-Aid on a more serious problem. We must take climate change more seriously or we will have to pay a much higher price to rescue, not only our historical sites, but our cities, too..
Tim Philp has enjoyed science since he was old enough to read. Having worked in technical fields all his life, he shares his love of science with readers weekly. He can be reached by e-mail at: tphilp@bfree.on.ca.