Western expert warns municipalities against using online voting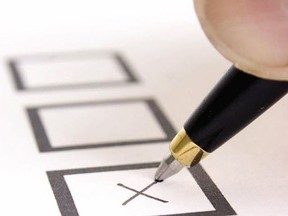 Article content
Online voting in municipal elections is "basically the Wild West," rife with security and legal risks for cities, a Western University researcher warns.
Article content
Almost half of Ontario municipalities offered voters the chance to cast their ballots online in the 2018 election, though it's not been an option in London.
We apologize, but this video has failed to load.
Western expert warns municipalities against using online voting
Back to video
"If municipalities use online voting, they are exposing themselves to cyber, legal and reputational risks," said Aleksander Essex, a Western computer engineering professor and privacy expert.
And it could come back to bite taxpayers, he stressed.
"We expect there are going to be lawsuits. In fact, there already has been," Essex said.
"We have identified the risks, and we are encouraging (municipalities) to not use this technology until some standards can be developed."
All small municipalities in the London region offered voters the chance to cast ballots online in 2018, and Sarnia council voted last month to use internet-only voting in the next election in 2022.
But some pitfalls are also clear. During the 2018 race, a major voting services company had trouble with its online system on election night. Several Ontario communities declared emergencies and extended voting by a day.
A study of online voting by Essex, Western master's student Anthony Cardillo, and Australian researcher Nicholas Akinyokun raised questions about the transparency and accountability of results, weak voter authentication and privacy protections, as well as cybersecurity risks.
Still, the relative ease of voting by phone or internet is a selling point for many voters. And it makes elections more accessible to those who have trouble getting to polling places due to mobility, work or other constraints.
"This kind of falls under the broader umbrella of convenience voting," Joseph Lyons, director of Western's local governance program, said last month. "Governments are trying to make it easier for people to vote, and online voting is one way that that can happen."