Watch Local Week will showcase local filmmakers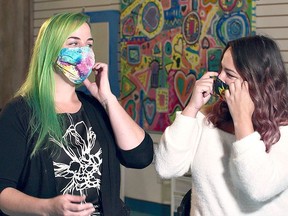 Article content
Watch Local Week offers the chance for people to stream movies and television programs, free of charge, created by Haldimand-Norfolk filmmakers.
Article content
The Haldimand County Public Library and Norfolk County Public Library have partnered with Windecker Road Films and Rainey Media to present the weeklong event April 18 to 24, coinciding with Canadian National Film Day on April 22.
We apologize, but this video has failed to load.
Watch Local Week will showcase local filmmakers
Back to video
"As much as we'd love to share this experience in person, the wonderful aspect of virtual screening is of course the convenience," said Graeme Bachiu, a Haldimand-based filmmaker with Windecker Road Films. "You can watch each evening after work or school, or take a day and binge-watch the best in local productions all at once."
Bachiu added he hopes the event will reach a wide audience of all ages and interests.
"In Haldimand and Norfolk we don't really have a single broadcaster or TV station that covers the area, so it's hard to capture the attention of a local audience," he said. "This partnership with our local libraries makes perfect sense, and all of us in the film community greatly appreciate the support."
Bachiu noted that local producers or filmmakers interested in participating should contact him at graeme@windeckerroadfilms.com
Two titles confirmed for the week include Rainey Media's season one finale episode of Tailgate Talent Show, and Making Things Count: Pandemic Postcards that is a 2020 production by Windecker Road Films. Additional titles will be announced soon.
Watch Local Week "comes during one of the toughest times for artists, who have had to deal with loss of opportunities to showcase their work, as well as numerous restrictions for filming new projects," said Melissa Kenney of Riverside Communications in Dunnville. "With the community already embracing shop local and eat local campaigns, the Watch Local Week team hopes that this event's focus on local entertainment is a compelling next step for the community to rally behind."
Article content
Haldimand County CEO Paul Diette said he's excited about the partnership for this inaugural event.
"It is so important to support, showcase and celebrate the artistic and creative achievements of our friends and neighbours," Diette said, adding he is "hopeful that viewing these selections will spark meaningful conversations and inspire residents to seek out more works to expand their horizons."
In the coming weeks, viewers will be able to register for the event by visiting the library websites at haldimandlibrary.ca or ncpl.ca
"We all love a good story," said Heather King, CEO of Norfolk County Library. "Film media is another platform to immerse yourself into an adventure or a way to learn something new."