Town hopes to resolve soccer dispute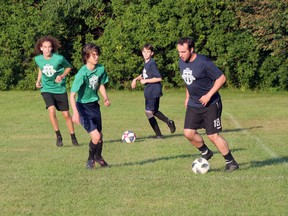 Article content
Can the rift that has developed between Tillsonburg FC and Tillsonburg Minor Soccer Club be repaired?
Article content
Members of Tillsonburg Town Council, who received a Tillsonburg FC delegation at their Aug. 10 online council meeting, hope so.
We apologize, but this video has failed to load.
Town hopes to resolve soccer dispute
Back to video
After an 18-minute presentation from John Twinem, Tillsonburg FC technical director, and 45 minutes of questions and discussion, council voted to support a liaison working group.
TMSC did not have a representative at the council meeting.
Highlights of Twinem's presentation included the formation of the club in 2018, why they separated from TMSC, and the club's affiliation with MLS Vancouver Whitecaps in 2019.
Tension grew in recent weeks when Tillsonburg FC expressed interest in using the TMSC-managed soccer park fields that had been closed due to the COVID-19 pandemic.
"Unfortunately we are viewed as sub-letting tenants with no partnership input," said Twinem. "This is why it is hard for us to continue in such a relationship. And you (Council) can change that."
Tillsonburg FC suggested four potential solutions. Merge the two soccer boards with fair representation and affiliate with Ontario Soccer. Split the Soccer Park facilities in half. Give Tillsonburg FC its own partnership with the Town. And the fourth, said Twinem, would be an ad hoc committee with two representatives from each partner, as well as the Town, to oversee the park.
Tillsonburg FC asked for access to the fields for the remainder of the summer/fall with Tillsonburg FC doing maintenance; and a staff report to assess options.
Article content
"We would like a new agreement that returns to the spirit and intent of the original agreement," said Twinem.
"I've worked hard over the last couple of weeks to try and get both groups to work together," said Coun. Chris Parker. "I want to remind both groups that you used to be under the same umbrella. I understand that political red tape has kind of made that difficult for you in the past, or in the short term, but in the long run politics and money is now starting to affect the children of Tillsonburg and the surrounding area. I want to remind both groups that in the long run this facility is meant for the enjoyment of the youth in our community, where kids can be kids, learn teamwork and grow friendships that will last a lifetime. And right now, that's not being done."
"I agree with you," said Twinem, "And I would love to see the two groups under the same banner. And I would love to see the two groups making a prime emphasis on getting the kids on the field."
"I do believe this is an internal problem, not necessarily one that needs to be in front of council or in front of the public, and hope moving forward it can be rectified," said Coun. Deb Gilvesy, "because the bottom line is this is about kids."
"I think everyone has the same thing at heart," said Mayor Stephen Molnar.
Council passed a resolution to support the creation of a liaison working group between TMSC and Tillsonburg FC, with each group having two representatives, and two town representatives as resources. They will report progress to council by the end of October 2020.
Deputy Mayor Dave Beres, the lone dissenting vote, noted the town has not had anything to do with soccer programs or partnerships in the past.
"This was something that was very clear in the original agreement – that they were looking after all of their own priority use.
"Where does it stop?" Beres asked. "I believe what we should be looking at here is a memorandum of understanding."
cabbott@postmedia.com