Tillsonburg Hydro Inc. hires new general manager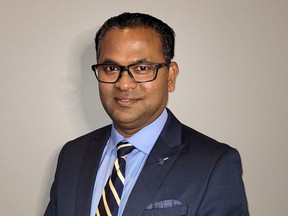 Article content
The Town of Tillsonburg, in partnership with Tillsonburg Hydro Inc., announced Ravi Baichan will begin overseeing the Town's hydro operations effective Tuesday, Oct. 12.
Baichan most recently served as controller at Halton Hills Hydro Inc., and was previously manager of regulatory affairs at Cambridge and North Dumfries Hydro.
Baichan is a Chartered Professional Accountant with more than 20 years of experience in financial management, regulatory compliance and risk management. He holds a Masters Certificate in Leadership from the Schulich School of Business at York University, and completed executive management studies at the Smith School of Business at Queens University.
In his new role as THI general manager with the Town of Tillsonburg, Baichan will be responsible for the overall management of the Hydro Division, ensuring safe, environmentally sound and efficient practices are in place in compliance with all the applicable regulatory, legislation and governing entities.
Article content
"We're pleased to welcome Ravi to Tillsonburg and look forward to the leadership he will provide," said Robert Kent, president of Tillsonburg Hydro Inc. in a media release.
We apologize, but this video has failed to load.
Tillsonburg Hydro Inc. hires new general manager
Back to video
Baichan was selected following a rigorous recruitment and interview process involving the Town of Tillsonburg, Sartor and Associates, and members of the Tillsonburg Hydro Inc. board of directors.
"Tillsonburg Hydro is a critically important asset in the Town of Tillsonburg," said Mayor Stephen Molnar. "We are pleased to welcome Ravi to our corporate team."
Tillsonburg Hydro Inc. is 100 per cent owned by the Town of Tillsonburg and operates as a regulated company under the auspices of the Ontario Energy Board.
THI serves more than 7,500 customers covering 22 square kilometres in the Town of Tillsonburg.