Thunder sweep Jets in WOSHL semifinals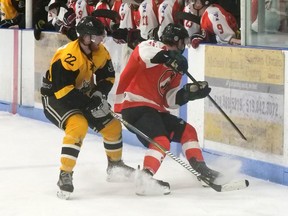 Article content
The Tillsonburg Thunder men's AA hockey team clinched a berth in the first WOSHL finals with a 5-4 win Saturday night over visiting Strathroy Jets.
Article content
We apologize, but this video has failed to load.
Thunder sweep Jets in WOSHL semifinals
Back to video
Matthew Weston scored the overtime winner 1:02 into the sudden-victory period, his third goal of the game.
Tillsonburg won the best-of-seven semifinal 4-0.
"The boys kept going even though we were down. We battled and we got right in there," said Weston. "We won and that's all you can ask for."
Tillsonburg carried a 3-1 lead into the second period but Strathroy equalized with a pair of power-play goals. Nolan Blewett gave the visiting Jets a 4-3 lead at 13:30 in the third.
Five minutes later Weston notched his second of the night to make it 4-4 and neither side scored in the final eight minutes of regulation.
"Couldn't have done it without Nauter's stick though – I broke my stick and he (Chris Nauts) gave me his stick and I got two goals with it," said Weston. "Unbelievable, it must have been the magic of the stick."
Weston said the Thunder were confident after winning three earlier semifinal games 5-3, 3-2 and 3-2.
"We were buzzing out there, just buzzing. We knew we had it no matter what. I knew Rayzer (goalie Jesse Raymond) was back there and he'd stick right through to the end. Our D played unreal too, we had a whole group of players … the whole team was going."
Earlier in the season Strathroy, the second seed in the five-team Western Ontario Super Hockey League, had the upper hand on Tillsonburg winning 6-4, 4-2, 4-2 and 4-3.
"We played well, but we could never come out of there with a win," said Thunder coach Rob Hutchison. "They worked well in their barn – they're a good addition to the (WOSHL) league."
Article content
In mid-February, Strathroy forfeited a 1-0 decision due to a COVID-19 player shortage.
Leading up to playoffs, the Thunder won three straight over Alvinston, league-leading Elora, and Stratford.
"We were going through a rough patch but we regrouped during the break, came back and we've been rolling ever since," said Weston, a Caledonia minor hockey grad who played Junior C with Hagersville and Junior B with Caledonia.
"It was good to have that win here, their barn is tough," said Hutchison.
Some of those Strathroy fans made the trip to Tillsonburg for Game 4 Saturday – and they were vocal.
"Their fans are really into it, for sure," Hutchison smiled, "and they've got a good solid team.
"It's nice to have everybody back here and healthy. Langer (Eric Langridge) just got back into the lineup. Since the playoffs started we've always got 20 guys ready to go – four lines deep and six D. Max (Partlo) said it best, we've got two top lines and two third lines. At any given time all four lines can compete with anybody. We've got lots of depth, that's for sure."
The schedule for the best-of-seven championship series was not known Saturday, but Weston said the Thunder were confident. It could start this weekend or next.
"I know we can beat this (Elora) team and we've got a great group of guys in here," said Weston. "All that matters is that we keep rolling."
"They're all thriving off it," said Hutchison, "as soon as Westy got that last goal. Same thing with our overtime win here before (March 12) when Slaghter (Derek Slaght) got it.
"They bring their own momentum. When people say 'good job coach' I always say 'I just stand there and look pretty and these guys do all the hard work.' It's not hard to keep the momentum with this group because they're all into it so much. They're all skilled hockey players in this league, from Junior C to B or wherever, they're all a good group of guys and they know how to bring each other up. It's competitive throughout."
cabbott@postmedia.com