Theodore Too coming to Port Dover for the summer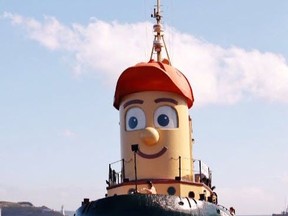 Article content
A famous tugboat will make Port Dover its summer home once the COVID-19 pandemic is over.
Article content
Developer and marine operator Blair McKeil has confirmed he has purchased the Theodore Too, an imposing 60-foot craft based on a television series that is popular with children the world over.
We apologize, but this video has failed to load.
Theodore Too coming to Port Dover for the summer
Back to video
"He will spend part of the summer in Port Dover," McKeil said. "He will be up there July and August. It's a perfect place for him."
Ambassatours Gray Line of Halifax, previous owner of Theodore Too, put the tug up for sale last year.
Ambassatours had been thinking of a sale beforehand but the pandemic forced it to act. Social-distancing rules and other pandemic protocols meant it was no longer economical to offer the tug for harbour tours, the company said last year at the time of the listing.
The Theodore Too will travel the Great Lakes and elsewhere as a thrill for children and to promote careers in marine industries. McKeil's family owns McKeil Marine, which has numerous shipping interests on the Great Lakes and which got its start in Nova Scotia.
While the Theodore is in Port Dover, McKeil intends to moor it on the west side of the Lynn River across from the Port Dover Yacht Club. McKeil wants to keep the Theodore out of the harbour because the water there can get rough at times, which can be hard on hulls.
McKeil added the Theodore will also spend time in the harbour in Hamilton in a high-profile location accessible to families.
Interest from buyers and media was intense last year when Ambassatours announced Theodore Too was on the market. Ambassatours fielded numerous offers, but felt McKeil Marine understood the boat and had its best interests at heart.
Article content
"When we listed Theodore for sale several months ago, we focused on helping him create a new chapter that would harmonize with his roots," Dennis Campbell, CEO of Ambassatours Gray Line, said in a news release.
"While fielding inquiries from all over the world, it was the offer from Blair McKeil that felt like the best fit for Theodore's personality, experience and potential."
The Theodore Too looks like a novelty boat. But beneath the animated exterior is a well-maintained working vessel.
The tug is 60 feet long, 22 feet in the beam and has a draft of nearly nine feet.
The Theodore Too is rated for 49 passengers. The boat has two single cabins, two double cabins, a laundry room, a shower, a galley with sink, a refrigerator, a freezer, an oven, a range and a microwave station. The onboard cistern holds 681 gallons of freshwater.
It is also fully outfitted with nautical electronics, including two VHF radios, radar, GPS, a hailer, a chart plotter, auto pilot, remote joystick steering, a depth sounder, compass, a rudder angle indicator, closed-circuit TV, a public-address system, and two flat-screen TVs. The Theodore Too also comes with an assortment of life preservers.
McKeil says the boat requires a crew of three. He sees the tug making guest appearances at port towns on the north shore of Lake Erie when those communities are having special events and festivals. He says Theodore Too will make its presence felt in Port Dover during Canada Day festivities, fair-weather Friday the 13th motorcycle rallies, and Summerfest.
The Theodore Too was inspired by the CBC television program Theodore Tugboat, which ran from 1993 to 2001.