Study maps out post-pandemic recovery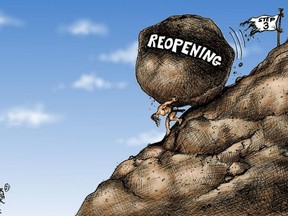 Article content
The local labour market has the potential to bounce back strongly from the impacts of the COVID-19 pandemic in the next 12 to 14 months, but proactive strategies will be needed to succeed, says a new study.
Article content
The Workforce Planning Board of Grand Erie has mapped out four potential scenarios of what recovery could look like, depending on what strategies and actions are carried out.
We apologize, but this video has failed to load.
Study maps out post-pandemic recovery
Back to video
Under the most optimistic scenario, the local workforce could be thriving again within the next two years, the board says in a report called Grand Erie's Post Pandemic Economic Scenarios.
Under the least optimistic scenario, there could be lasting negative impacts on the workforce.
Danette Dalton, executive director of the planning board, said the scenario that is realized will depend on a number of factors, but "workforce resilience" and "strategic responsiveness" are critical for success.
"The scenarios are more 'what-ifs' than predictions," said Dalton. "There are still a lot of uncertainties but, if we work together proactively as a community, we can achieve the best possible scenario for Grand Erie's workforce and economy, so all workers and businesses thrive."
Dalton said the pandemic has had profound impacts on employment, the way people work, and shifts in the skills and occupations in demand by employers, requiring additional training and supports.
Over the last year, workforce planning boards across southwestern Ontario have done community consultations and research as part of scenario planning exercises.
The Grand Erie Recovery Task Force has had input from more than 80 businesses and organizations, including those representing employment services, education, economic development government, unions, literacy and chambers of commerce.
Article content
Grand Erie's report emphasizes the need for collaboration, adaptability and continuous learning among all workforce members in Brantford, Brant, Haldimand and Norfolk counties, Six Nations of the Grand River and Mississaugas of the Credit First Nation.
"The report is meant to assist decision makers to proactively address the challenges and opportunities facing our workforce," said Dalton. "There are a number of recommendations for business, economic development, government, education and skills development organizations."
While the report notes the impact of COVID-19 on public health hasn't been particularly severe in Grand Erie compared to other Ontario communities, pandemic-related business closures and supply chain shifts hit Grand Erie's workforce hard, bringing the unemployment rate up to almost 13 per cent by June 2020.
The report says youth were disproportionately affected by job losses, as were part-time female workers in service sector businesses and full-time male workers in lower-skilled manufacturing and warehouse jobs.
There has since been improvement. As of last month, says the report, "both Brantford's employment and participation rates have returned to pre-pandemic levels, and remain higher than the provincial rates, signalling that the Grand Erie area is recovering faster than surrounding communities."
The report's priorities and recommendations include:
Advocating for adjustments of legislation to allow employers more flexibility.
Increasing financial support for new cleaning products.
Designing digital inclusion supports for Grand Erie residents and employers with limited Internet access.
Advocating for forgivable loans and grant programs.
Identifying business needs in key sectors.
Increasing promotion of skills training programs.
Increasing digital/technical skills development.
Designing and delivering human resources training for employers
Enhancing education around career pathways.
Finding new ways of engaging families about education and career pathways as early as primary grades.
And increasing integration of digital skills training and technology into core courses.