Stratford police body worn camera training ongoing, full deployment expected by early summer
Officers with the Stratford Police Service are currently being trained on how and when to use the body worn cameras that ultimately will be deployed with every officer, likely at some point early this summer.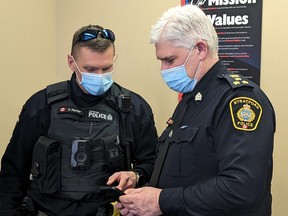 Article content
As part of their annual training, officers with Stratford's police force are learning how to use the body cameras that will soon become part of their uniforms.
Article content
Over the next 10 weeks or so, every officer serving Stratford, St. Marys and Perth South will learn how – and when – to use their cameras, and how to review and isolate footage for use as evidence or for public release to help in an investigation.
We apologize, but this video has failed to load.
Stratford police body worn camera training ongoing, full deployment expected by early summer
Back to video
The training comes in the wake of last year's three-officer pilot project, which used the body cameras as a method to improve police transparency while exploring their use as a tool to gather and review evidence.
"I haven't taken the training yet, but it's related to the basic functions of the camera, how we operate it, what it's functionality is, and what it's capabilities are," said Const. Darren Fischer, one of the three officers equipped with a camera last year. "There's going to be a lot of training in regards to what your legal requirements are … because we do have a policy in place on how and when we are supposed to use the camera, and when we shouldn't use the camera too.
"There does need to be some level of consent when we go into certain situations, like walking into somebody's personal home. … And in regards to the evidentiary portion of it, there's a lot of training that's probably going to have to go into the redaction of certain information, how to access (specific footage), where to upload it to, and what you need to do with it once it's there."
Once footage is captured on a call, Fischer said officers can review it immediately using an iPod and can pinpoint specific pieces of evidence to direct to the attention of a Crown prosecutor or the court system.
Article content
Currently, the Stratford officers like Fischer who are equipped with the cameras as part of the pilot are responsible for editing and redacting the footage that could be used for prosecutorial purposes, freedom-of-information requests or in other types of investigations.
While officers can redact private information or footage of members of the public not involved in an investigation, as well as edit out specific pieces of footage relevant to an investigation, the original, unaltered video will always remain on file and available should police, the court or another regulatory body need it.
According to Fischer, that back-end work requires a significant amount of time for officers to complete, taking roughly two to three times longer than the length of the footage.
Stratford police Chief Greg Skinner said the department has included a new records manager position in this year's draft budget who will be responsible for overseeing and managing that back-end work by officers and other staff once the cameras are rolled out this summer. However, he expects that work will require additional staffing and other resources at some point.
"The financial considerations (for that back-end support) are huge," Skinner said, "so we do have some additional support for dealing with body-worn camera storage and data pieces, but we don't believe it's enough. So we're going to have to see exactly what it takes to manage the system from an admin-support perspective before we go forward to the (Stratford police services) board for any other enhancements and positions in the future.
"And that will happen probably in 2023."