Salvation Army Tillsonburg is rebuilding with new and familiar programs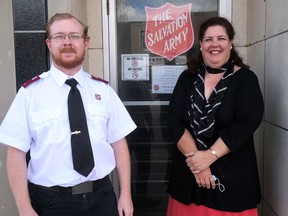 Article content
There are some new faces at the Salvation Army Tillsonburg office that you will be seeing around town in the coming weeks and months.
Article content
Lieutenant Drew Young, Corps Officer (pastor) of the Salvation Army Tillsonburg Community Church, arrived in July, taking over for retired Captain Nancy Sheils (and interim officer from February to July).
We apologize, but this video has failed to load.
Salvation Army Tillsonburg is rebuilding with new and familiar programs
Back to video
Clare Laker from Tillsonburg joined the Salvation Army staff as Community and Family Services Worker on Aug. 30.
"We wanted to let the community know we're the new staff here," said Young. "And let them know that our hours are now fixed for Monday to Friday, 9-3."
Salvation Army Tillsonburg continues to provide numerous services including emergency food (in the form of a food bank), seasonal programs for Christmas with food hampers and toys (through an application process), back to school shoes for kids (up to high school age), and partnering with the United Way for school supplies.
The back-to-school shoes program received $2,964 in donations, including a $1,290 donation from St. Paul's United Church, which will also be used in 2022. Autoneum also makes a significant donation to the program.
"We are in the process of rebuilding ourselves," said Young.
The Salvation Army is currently gearing up for the Kettle Drive, and the annual Christmas Season Coat Drive when they accept gently used or new coats.
"If people are needing coats they just literally come up and say, 'I need a coat.' And we hand that out.
"We'd prefer if anyone donating coats comes to drop off coats at the office (155 Broadway, 2nd Floor) to keep the Thrift Store staff from being inundated."
Article content
They are also hoping to have a Fill The Cruiser event with the OPP Auxiliary for a Christmas toy drive, and possibly Tillsonburg Fire and Rescue Services.
"We've got a lot of programs coming up for November, December for the community," said Laker. "Some they will remember, some may not have been done for a while, some that are new."
The COVID-19 pandemic influenced some of the changes – pre-registered people (call Laker at 519-842-3231 to register) receiving 'hampers' will instead get grocery store gift cards and they will go to the Salvation Army Community Church (110 Concession St. West) with pre-arranged appointments to receive toys.
Family households will be able to pick up their toys and gift cards the week of Dec. 13-17 and singles from Dec. 20-22.
Homeless in the community are assisted year-round with toiletry kids, which are donated to the Salvation Army. They also want to partner with the OPP to help get people in emergency situations to the Woodstock homeless shelter via taxi, said Laker.
"We also try to partner with Oxford County Community Health Care's Abbie Boesterd – we work alongside them as well.
"And we also just finished up our last food-truck free hot meals," Laker noted.
"We did three or four… and combined served 93 people," said Young. "That was an opportunity to partner with the community meals program (which includes Avondale United Church). So we took on a day and we brought out emergency disaster resource truck and provided different (free) meals."
Article content
"The last one we did was pancakes with whipped cream and strawberries, scrambled eggs, and sausages," said Laker.
"The one I started with in July was the chili dog or hot dog," said Young. "I was in the truck and trying to network with everyone."
Follow the Salvation Army Tillsonburg Facebook page to keep up to date on their local events.
MAILOUT CAMPAIGN
A mailout campaign goes out to the Salvation Army catchment area in November.
"Our goal for the letter campaign is $100,000," said Young. "Our goal for the Christmas Kettle Campaign is $70,000."
Last year they raised nearly $101,000 through the letter campaign, but did not reach their kettle goal raising $37,705.
"Those funds that we get at Christmas time help us support emergency, one-night sheltering that we do. It helps us fund the back-to-school programs, it lets us fund our food bank because we take donations but we have to buy our own food sometimes.
"It also lets us operate the office, which has a little bit of an operating cost," said Young, noting that out of every donated to Salvation Army 94 cents goes to helping the community. "We only take six cents (out of every dollar) for administrative purposes.
"When we do fully transition to having the food bank at the church, and if Covid protocols permit, we will be changing over to a monthly 'shop' experience for the food bank," said Young. "It will be based on a colour coding point system to allow families and households to have the 'grocery store experience'. They'll go to our checkout and we'll make sure they are within the points they are allotted. It allows them to get what they want."