Restoring a first edition Wonderful World of Oz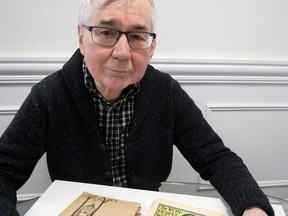 Article content
"I have a feeling we're not in Kansas anymore."
Article content
Just one of Dorothy's famous lines from the 1939 film The Wizard of Oz, one of the most watched movies in history.
We apologize, but this video has failed to load.
Restoring a first edition Wonderful World of Oz
Back to video
It was adapted from a children's novel by L. Frank Baum, which the Library of Congress has described as 'America's greatest and best-loved home-grown fairy tale.'
It's a book Tillsonburg's Matt Scholtz, an expert in book conservation, has been asked to repair – a first edition copy of The Wonderful of Wizard of Oz (with pictures by W.W. Denslow), copyrighted in 1899. It is one of 10,000 first-edition copies, and according to the back page was printed on the 15th of May, 1900.
Only a few months later a second edition of 25,000 copies sold out.
"One book seller has called this the most important children's book in history," said Scholtz. "I would say it's the most important American children's book. Other books like Alice in Wonderland would certainly be one of the most important children's books."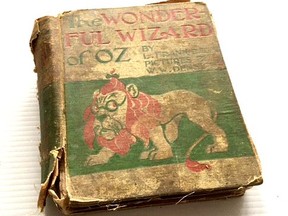 Since 2014 Scholtz has repaired 30-plus books, mostly bibles and family cookbooks, which are extremely important to families, but he says this book is the rarest – and a treasure.
"Not only the rarest but one of the most important in terms of the broader picture. This book is the most important children's books period."
The restoration work will be done page by page and there are about 230 pages. First, Scholtz needs to do an inventory.
"The first thing to do is make sure all the pages are there and they are in order."
What takes a particularly long time is repairing torn pages and he uses a special ultra-thin and extremely transparent tape.
Article content
"It's expensive stuff but it sure does the job.
"When I get books to repair sometimes people have been there before me and they've used Scotch tape. Some of them even had duct tape. It damages the book when I take it off, but there's nothing I can do about it. But this one, no one attempted to fix this. I don't know why – at some point it must have been unusable."
Books stored in attics or basements usually become compromised, said Scholtz. Glue dries out, pages become loose, and paper starts to wilt.
"A book is meant to be used, it's not meant to be stored away."
The spine of the first edition Oz book has degraded, but Scholtz said there are ways to repair it.
"I did book repairs at the Tillsonburg Library but it was only later on that I was asked to do some from the public and I really got interested in it. I started to build up my supplies but most of all I started I to experiment in different ways of doing this."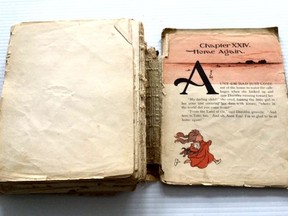 Depending on condition, a first edition Wonderful World of Oz could be worth between $6,000 – $100,000. However, the Tillsonburg book owner does not intend to sell it, said Scholtz. It will go to her family – she wants to give it to her kids to read to her grandchildren. It has been in the family since 1900. Generations have read it and hopefully generations to come will read it.
"A 120-year-old book… a lot of people have put their imprint on this book."
Scholtz has shared his Wonderful World of Oz project with peers and friends and it has caused quite a sensation.
"They all want to see the finished product."
He estimates it will take up to two months to complete the restoration before it is returned to its home.
And as Dorothy says, "There's no place like home."