Record numbers for Kinsmen Easter Egg Hunt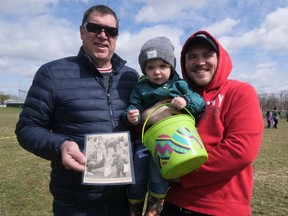 Article content
Devin Vandepoele does not remember it but at the age of two he was hunting for chocolate Easter eggs in Tillsonburg's Memorial Park, assisted by his father, Marc Vandepoele.
Article content
We apologize, but this video has failed to load.
Record numbers for Kinsmen Easter Egg Hunt
Back to video
Fast forward to Saturday, April 16, 2022 and it was Devin's son two-year-old son Louie hunting for chocolate eggs with his dad and grandfather.
"I remember the later ones," Devin nodded. "Every year we'd come out here to do it. I don't remember there being this many people."
The excitement just before the siren/horn sounded was electric up and down the lines.
"You could feel it, it was crazy," said Kinsmen organizer Cedric Tomico. "I think the addition of the vehicles (OPP, Tillsonburg Fire and Rescue Services, East Elgin Concrete who were giving out 300 T-shirts, farm machinery and more) was fun. And we can grow that part even more."

With more than 30 years of Tillsonburg Kinsmen Easter Egg Hunts, the generation continuity can be expected.
Kinsmen Club's John Danbrook had four grandchildren hunting chocolate eggs Saturday
"The year I joined Kinsmen was the year Tyler was born and now he's been a past-president," said Danbrook.
Walter Ellenberger, one of the original Kinsmen Easter Egg Hunt organizers with Dan Haines, who passed the reins on to Tomico this year, also had four grandchildren at the park Saturday.

"I can't imagine how many people we had today," said Tomico, estimating up to 1,000 or more children and parents participated Saturday.
Everyone agreed there was a lot more than the usual 250-350 children.

Earlier that morning a team of Kinsmen members had scattered more than 28,000 foil-wrapped chocolate eggs across four fields near the Kinsmen Bandshell for four age groups – 3-and-under, 4-6, 7-9, and 10-12.
Article content
"160 bags…" said Tomico.
"181 per bag on average," said Ellenberger.
"So that much… 28,960 eggs," said Tomico. "That's one-and-a-half times more than we normally do because we knew it would be a great turnout."

They also distributed 40 plastic eggs which could be redeemed for a chocolate Easter bunny, and two 'special' Kinder eggs for each age group, which earned children a large gift basket full of surprises (chocolate, soccer balls, A&W mug, a $25 gift certificate and more).

The Easter Bunny made an appearance in costume, as well as the A&W Great Root Bear.

Tomico suggested they might need to expand their area in Memorial Park next year.
"We've done that before too," said Ellenberger. "We used to have it at Participark, so it's really grown a lot."
"This is the best attended Kinsmen activity we do," Tomico noted. "All the guys come out – I would say we have 90% of our club members here."

KINETTES
The Tillsonburg Kinettes were also well represented Saturday operating a food booth, selling hot dogs, chips and beverages at the Easter Egg Hunt.
The Kinettes are looking for new members – the club runs year-round but they do not have meetings in July-August. Contact the Kinettes at tillsonburgkinettes2021@gmail.com or on Facebook if you'd like more information on the local service club or joining.

SPONSORS
When Devin Vandepoele had his photo taken years ago, the Kinsmen Egg Hunt sponsors were McDonald's, Kinsmen and the fire department.

This year's generous sponsors included 360 Developments, Tillsonburg Fire and Rescue Services, Agrospray, Chrissy's Catering, Braunz Construction, Denby Environmental, the Town of Tillsonburg, ServiceMaster Restore, Kevin and Kristin Buchner, DLG Davis Land and Grain Inc., Danbrook Automotive, Kelseys Original Roadhouse, Baldwin Street Dental, East Elgin Concrete Forming, Good Redden Klosler, Ripco, Sobeys, Lance MacKenzie Century 21, A&W, Nu-décor, Re/Max Tillsonburg, VanQuaethem Farms Ltd, Oxford OPP, and the Tillsonburg Kinsmen Club.