Raising awareness of problem of cyberbullying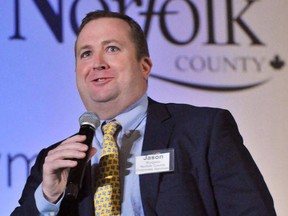 Article content
One might assume that a decline in cyberbullying would be a silver lining to the COVID-19 pandemic now that students in Ontario are taking lessons over the Internet.
Article content
However, Norfolk council was surprised to hear that this is not the case.
We apologize, but this video has failed to load.
Raising awareness of problem of cyberbullying
Back to video
In conversations with local teachers, county CAO Jason Burgess reported that, in some respects, cyberbullying is worse due to lockdown measures and the isolation they produce.
"It's even worse during COVID when kids don't have their normal social networks," Burgess said.
As a turnaround specialist brought in to advise on serious financial and organizational problems, Burgess has received his fair share of brickbats online over the past year. Some of it gets tiresome, he said, but, by and large, he can take it. He knows this is not the case with many adolescents.
"Some kids don't have that thick skin," he said. "It hasn't been built up yet."
Burgess added that cyberbullying is not just an issue for young people. Cyber abuse, he said, is corrosive and gets in the way of the constructive dialogue required to build strong, forward-thinking communities.
Given cyberbullying's potential to affect the mental and emotional well-being of young people, Norfolk County has teamed up with the Grand Erie District School Board and the United Way of Haldimand-Norfolk to raise awareness of the problem.
In a news release, Norfolk Mayor Kristal Chopp related her experience with cyberbullying, which began almost immediately after her election in 2018.
Chopp said the lies and misinformation eventually take a toll.  She decided the best recourse was to tune out critics with nothing constructive to offer.
Article content
"One day, I took my friend's advice and – for a couple of the harassers – block, block and block," the mayor said.
"Don't be afraid to just shut out the negativity – it's liberating. The abusers are still out there, and new ones always emerge, so I made a conscious decision to minimize using social media. That is a challenge in my position because of how great of a tool it can be to communicate your message. But I do my best to find other ways."
In an interview, Waterford Coun. Kim Huffman said she believes social media, on the whole, is a powerful communications tool that can be a force for good.
She noted that the Waterford and District Minor Hockey Association has adopted a "24-hour rule" that has proven effective in reducing the toxic potential of social media on players, coaches, referees and parents. Under the rule, anyone upset with a game-related matter is asked to think about what they wish to say for 24 hours before picking up the phone, sending an email or commenting on social media. That, Huffman said, has taken much of the anger and emotion out of these situations.
"People should think about their responses," she said. "Everything is so instant gratification in our society. It's a learned skill: Weighing the pros and cons of things and deciding what hill you're willing to die on."
If parents suspect their child is being bullied or harassed online, they are encouraged to approach Haldimand-Norfolk REACH for coping strategies. The number to dial is 1-866-327-3224.