People's Party of Canada is a 'family of candidates': Martin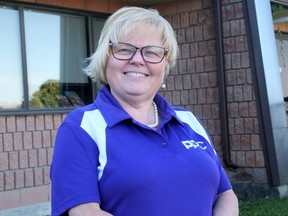 Article content
Wendy Martin, Oxford federal candidate for the People's Party of Canada, says her party stands for individual freedom, personal responsibility, respect and fairness.
Article content
"The most important issues are freedom and our Charter of Rights of course," said Martin, who lives in Norwich, identifying some of the key issues for PPC in the 2021 federal election. "And then we're going to have to look at the economy and balancing the budget and reducing income tax once the budget is balanced in four years.
We apologize, but this video has failed to load.
People's Party of Canada is a 'family of candidates': Martin
Back to video
"Also, no vaccine passports and no vaccine mandates – and that is part of your freedoms and part of our COVID platform. Part of that is making sure that we protect the vulnerable. A pre-COVID pandemic plan (done by the military) has never included any type of lockdowns for the whole country, it's always been to protect the vulnerable," said Martin. "So that's our main thing because lockdowns have proven not to work."
Balancing the federal budget will be challenging, she said, but noted millions of dollars are spent outside of Canada in foreign aid when that money should be spent looking after Canadians first.
"Once you do that, what you actually do is you're paying down the debt. Right now, a child that's born today is $26,000 in debt. And the way the spending is going right now, they predict it will be 50 years before it's balanced. That child is then going to be $67,000 in debt in 50 years. We can't have that … we need to keep our money here."
There are exceptions, however. Martin said, "We need to help out with countries that have humanitarian and disaster needs, that money will always be there to help out other countries, because that's what Canada is all about."
Article content
Once the budget is balanced, Martin says PPC plans to reduce income tax and corporate tax, and get rid of boutique tax credits.
"We just have to make sure that companies are paying their fair share of tax, but not over-taxing them. That increases their profits, which means that they can in return pay higher salaries and increase the standard of living of their workers."
The PPC would also strive to reduce inflation, which should increase investments in businesses.
"This allows for more innovation and it also helps start new businesses."
Martin, who held an outdoor PPC event at the Mount Elgin Community Centre on Friday, said it's been hard keeping up with election sign orders.
"Every time I order signs they are gone within 24 hours, so it seems like I'm ordering every other day. You order 900 signs and boom, they're gone. So the campaign is going great.
"When our sign team goes out, we actually sometimes cannot even deliver all of our signs because people are coming up and asking us for signs. And asking us about the People's Party of Canada – they want to know about it.
"The volunteers are coming out of the woodwork to help. I can't keep up with emails, phone calls, messages, so there are three of us looking after all of that. I have a person just for my social media, which gives me time to do door knocking and we can meet with all the constituents in our large community. Unfortunately I'm probably never going to get to everybody in Oxford County – having a snap election, it doesn't give you that lead time."
Article content
The PPC does respect COVID rules in Ontario limiting indoor gatherings and it has focused on meeting outdoors.
"That's why we're outside today," said Martin, noting they would have a guest (Cole Squire from Six Nations, Brantford-Brant PPC candidate) talking about the PPC's Indigenous platform.
"This is just PPC and these are our own meet and greets and our town halls."
It is common for PPC candidates to speak at party events outside their own riding. On the Sept. 15, Martin plans to be at the Meet the Candidates event hosted by Tillsonburg District Chamber of Commerce in Tillsonburg 1-3 p.m. at The Carriage Hall (25 Brock Street West) after attending a PPC event in Sarnia that morning.
"We're a family of candidates. We go to any (PPC) event that's going on – we make good things happen that way. It kind of started in 2019. Because we were new, we had to make sure we were all supported. It's just kind of the culture of the PPC, it has grown into that and it's fantastic.
"We believe that we need to support each other because we're all Canadians, so that means we're also for all of our candidates. So we have to show that family because we are based on individual freedom, personal responsibility, respect and fairness."
cabbott@postmedia.com