Oxford Studio Tour offers diversity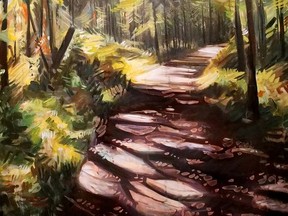 Article content
When Marjo Nault-Kubera sold a watercolour painting on the weekend, she asked the customer why she liked it.
Article content
We apologize, but this video has failed to load.
Oxford Studio Tour offers diversity
Back to video
"She said, 'It looks like the place where I grew up,'" said Nault-Kubera. "So for me, if somebody looks at a painting like this and says, 'I wish I was there,' for me that is the best compliment I can have."
Nault-Kubera brought 31 pieces of art to the Station Arts Centre in Tillsonburg for last weekend's 2022 Oxford Studio Tour.
"I don't think you want me to show them all to you," she laughed on Sunday afternoon.
"I do animals – the rooster and the sheep over there – I do landscapes, floral and insects, like that dragonfly.
"Today is special because it's my first time in the (Oxford) tour. I like it because you can exchange with other people – that's what I like the most."
Looking around the gallery, Nault-Kubera said she appreciated the variety in mediums, including colour pencil, jewellery, wood sculptures, oil and more – a small sampling of the wider county-wide tour.
"It has been a nice experience. The contact with other artists in here, I find it absolutely fascinating. We can see the evolution. We can talk about how they started, how they kept improving. I find that very interesting. That's my overall impression, I like the sharing.
"It also gave me a way to look at different abstracts. I am so focused on little, fine things, little things inside of flowers, this for me," said Nault-Kubera pointing to a Tabith Verbuyst piece, "this is unbelievable that somebody can do things like that. I see things like this, it's amazing."
Originally from Quebec, Nault-Kubera moved from Toronto, where she spent most of her life, to Tillsonburg in 2005.
Article content
"I just love this place," said Nault-Kubera. "It's a beautiful place. It's a amazing, this little town is a gem. When you come from a big town like Toronto, you appreciate this place. It's lovely."
Judy Feskun, from Ingersoll, exhibited jewellery and leather pouches – made for the jewellery – at the Station Arts Centre on the weekend.
"It's all sterling silver and semi-precious gemstones," said Feskun, who brought pendants and earrings.
"All of my jewellery, I make every component, expect for the beads. All of the silver parts I make myself – I work with silver wire, so they are hand-shaped and hammered in some cases. I don't buy any manufactured bindings."
She started making jewellery in 2003 and has been teaching how to make jewellery for about 15 years.
What does she enjoy most jewellery?
"Wearing it," she smiled. "I make something I like for myself and then I think 'somebody else might like that too' so I make another one.
"I find that when I wear (a pendant) like this white one, you'll be talking to people and all of a sudden you turn and it catches the light. People are awed. 'What is that?' It's just the way the rock is formed, it's amazing what comes out of the earth."
One of her favourites is the iridescent Labradorite.
"It can be blue, it can be orange, it can be green, it can be purple. And they call the white one a moonstone. Some of the Labradorite comes from the Labrador, some of it comes from Brazil and other countries. I go to gem shows to buy it."
Article content
Feskun also enjoyed the variety of Oxford Studio Tour art on display at the Station Arts Centre.
"I think it's a really good mix, you get a little bit of everything here. It's nice to see all the unique artists' work and techniques. It gives the buyers a real variety when they come in."
"We had two new artists this year (at the Station) and that gave us a little bit more diversity," said Verbuyst, gallery curator. "It's nice that we have multiple artists here, it gives people an opportunity to see diversity in one location. A lot of people talk about that, they like that, and I think more of the artists on the tour are starting to do that."