Norfolk popcorn business gets retail boost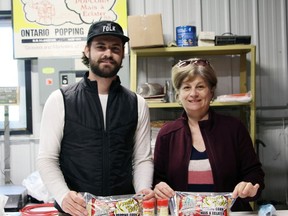 Article content
A Norfolk County company has reached new highs with a contract to distribute and expand their product in a major grocery store chain.
Article content
The family-owned Ontario Popping Corn Company of Walsingham was selected by Loblaws to participate in its Made in Ontario program, which will allow them to sell products within the supermarket chain's stores.
We apologize, but this video has failed to load.
Norfolk popcorn business gets retail boost
Back to video
The program has given the family an opportunity to grow and expand the operation at a key time. Like other companies, Ontario Popping Corn has struggled with sales numbers during the COVID-19 pandemic.
"From COVID, I would say that a good 40 per cent (of sales) was affected pretty hard or maybe 50 per cent because there were so many different avenues that we sold to that basically dried up overnight," said Tanner Townsend, who handles sales and marketing at Ontario Popping Corn.
"It wasn't a very good feeling because it felt like my future was going to be taken away at a certain point, but now, I feel like it's pretty solid and it's only going to get better."
Extra staff was hired to help with the new onset of high volume of orders.
Townsend says the workload has picked up quicker than the company had anticipated but the family is excited for what the future holds.
"It just keeps expanding and we're pretty hopeful to see what comes in the future, more or less," he said.
Company officials are aiming to incorporate more of their brand such as seasonings and popcorn kits in stores, but this has yet to be approved by Loblaws.
The company is run by owners, Blair and Livia Townsend. Their children Tanner, Mitchell and Courtney are also part of the operation.
Article content
Founded in 1985 by Robert Townsend, the business originally began as a tobacco growing farm with popcorn production as a side project.  The popcorn brand was named Uncle Bob's after Robert.
In 2007, tobacco growing operations ceased and Uncle Bob's became the main focus.
Prior to the Loblaws' initiative, Ontario Popping Corn relied on outside companies to purchase their popcorn, which would be resold and repackaged under the buyer's brand name.
The popcorn is locally grown and processed on a 200-acre farm. The family operates an online and walk-in pickup service. The business also sells their popcorn to non Loblaws locations such as Sobeys and Foodland.