Mamma Mia set to open May 4th at Otter Valley Playhouse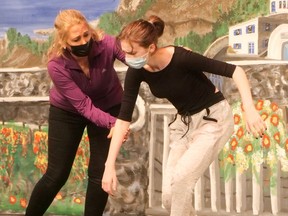 Article content
Theatre Tillsonburg can see the light at the end of the tunnel. And it's Mamma Mia!
Article content
We apologize, but this video has failed to load.
Mamma Mia set to open May 4th at Otter Valley Playhouse
Back to video
The long-awaited production of Mamma Mia at the Otter Valley Playhouse runs May 4-8 and May 11-15.
Director Tom Heeney and assistant director Susan Lowrie, the cast, the crew – and the soon-to-be wowed sold-out audience – are all excited.
"We are hanging in there and we are determined – and we are excited – to get this on stage," said Heeney prior to last Thursday's rehearsal.
It's been two-and-a-half years since they started working on Mamma Mia and there has been a lot of 'starting over.'
"You do stuff once, then there's a long delay and then you have to do it all over again."
Auditions and rehearsals had started in fall of 2019 for a planned spring 2020 opening, but they had to shut down in March that year due to the COVID-19 pandemic. At that point no one knew how long the pandemic would last. Rehearsals continued in October 2021 for a February 2022 opening, but in January that got pushed back to May.
"We are ready," Heeney smiled. "The show is in great shape. We're doing run-throughs right now, so we're just basically polishing and polishing."

Due to the extended nature of the production a few cast members became unavailable. They recast several parts and got back to work.
"Our new people have been fabulous. There's been a seamless transition, so we are basically stronger than ever right now."
"Most of them have experience, the vast majority do," said Lowrie.
Typically a rehearsal schedule for a musical, from start to finish, is 10 weeks. In that regard, Mamma Mia is unprecedented in Theatre Tillsonburg history.
Article content
"It's crazy," said Lowrie.
"It's a challenging play," said Heeney, "because, first of all, the number of songs in the show is extraordinary. They have crammed in just about everything that ABBA ever wrote. And the music itself is complex. We have up to six-part harmony in most songs, so it takes a lot of time to learn that. So as a result we've had many rehearsals that we just devoted to music.
"And also Mamma Mia is so well known, and ABBA has such a following, that sets the bar pretty high in terms of audience expectations. This show has been seen by more than 65 million people around the world."

They have been in the 'home stretch' with the 'pedal to the metal' rehearsing 11 hours a week in the six weeks leading up to May 4th.
"Spirits were very high because we had a new date and it wasn't that far away. Everyone is pumped, everyone is anxious to get this show on," said Heeney. "And now, during run-throughs, under the lights, when the set's all done, it's been 'real.'"
The show had sold out two months before the April 30, 2020 opening night – also unprecedented for Theatre Tillsonburg. Two extra Wednesday shows were added but the waiting list is even longer.
"It's 10 shows which gives more people a chance to see it."
Tickets were 'lifted' and placed on the same day. If you had tickets for the first Friday – that's what you've got for the May 2022 production.
"Your tickets are exactly the same," said Heeney. "In fact if they go back to the original email they got, if they ordered tickets online, that link will come up with the new tickets to print. So it's fantastic."
Article content
Some people, however, may be cancelling their original tickets. Email boxoffice@theatretillsonburg.com for more information or to be added to the waiting list.
"It is such a popular show and it will be really gratifying to be playing to packed houses every single performance."
Facemasks (or face shields) will be required for the audience.

Costumes won't be worn on stage until the final week before May 4th – and that will be another special milestone for the crew.
"They have a great crew here, a great team," said Lowrie.
"The costumes are works of art – they are beautiful," said Heeney. "Our costumes, by Mary Jane Kekes, they are wonderful. She and her team have done a magnificent job. You can quote me on this – 'it will be worth coming out to the show just to see the costumes!' Because they are fabulous."