Local businesses support 'Bosses Christmas' giving back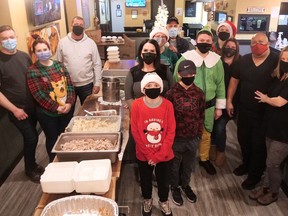 Article content
The second annual Flippin' Mike's Boss Leaf Christmas Eve takeout-style event in Tillsonburg served up more than 150 free meals Friday.
Advertisement
This advertisement has not loaded yet, but your article continues below.
Article content
"Plus the meals for the police, the fire department and EMS," said co-organizer Mike Jourdy, Flippin' Mike's owner/chef.
We apologize, but this video has failed to load.
Local businesses support 'Bosses Christmas' giving back
Back to video
That would mean at least 20 more meals in Tillsonburg Friday and deliveries to make to Oxford County Paramedic Services in Woodstock and Oxford OPP in Ingersoll.
"We're delivering some food now to some people who won't come," said Jourdy, who planned to deliver meals to homeless people in town.
"We can take whatever is left (in toys and gift items) to the women's shelter (in Woodstock) or the food bank, if necessary," said co-organizer Melodie Boyle, owner of Boss Leaf.
Boyle noted there was a sizable amount of crayons and personal care items left over.
"There were very few toy requests this year," Boyle noted.
One of the highlights of Flippin' Bosses Christmas was donating 'everything for Christmas' to two families.
"One little girl had recently lost her father," said Boyle. "And we had one who had just lost her uncle.
"So we provided the entire Christmas for them – all of their gifts, stocking stuffers, wrapped everything. That was huge. That was from money that was donated for those two families."
Everyone who came to Flippin' Mike's Friday evening between 5-8 received a takeout Christmas dinner featuring turkey and smoked ham, stuffing, mashed potatoes and a mixed vegetable side. And a cupcake for dessert. Courtland Bakery donated bread for the meals.
"Larry and Joanne from JL Hayward Trucking, they went out and got me tons of stuff – whatever I needed," said Jourdy.
Advertisement
This advertisement has not loaded yet, but your article continues below.
Article content
The Gazley family, owner of two Tim Hortons franchises in Tillsonburg, donated hot chocolate. The Van Der Jagt family, also owners of two Tim Hortons franchises, donated cookies.
"I brought hot chocolate and we had said we'd stick around this year and see what it's about," said Mike Gazley, who came back with his wife Christina and two sons, Ethan and Brayden, after his stores had closed.
"During COVID you see how the community supports businesses so much – as much as they can – and it's good to give back to the community, especially in these times. There are so many families that are struggling, anything that we can do to make a difference – a positive difference – you never know when it's going to affect someone in a good way. If we can make enough positive differences, then the world's a better place."
For the first hour it was steady before slowing down later in the evening.
"Everyone in line wore a mask, everyone social distanced themselves without us asking," said Boyle. "Everyone was respectful to everyone's boundaries. It was really nice."
Rick and daughter Jasmine Bull visited as Santa and elf.
People in line were asked if they had children and if needed toys which had been purchased through earlier donations. The majority, said Boyle, said no.
"It was really surprising actually."
They also gave out pet food for dogs and cats to people in line, donated by Tillsonburg Veterinary Centre.
"She said they (Tillsonburg Veterinary Centre) usually sponsor families but they were unable to find someone who needed assistance this year, so she wanted to donate to us what they would normally do."
Advertisement
This advertisement has not loaded yet, but your article continues below.
Article content
Jourdy started preparing the food Thursday and with his wife Sandra worked on it until about 3 a.m. Friday morning.
"Getting it all started," said Jourdy. "Nancy, she cooked turkeys all day today, and Brenda, everyone in the kitchen really did a lot.
"Last year we had a lull when we ran out of veggies and potatoes – and we had the same issue again this year, but I think we've come up with an idea for next year so we won't have that problem again. I'm getting better at it! This is on a different scale from what we normally do here. It's the potatoes, always the potatoes."
At 3 a.m. Jourdy was a bit concerned about it all coming together properly.
"This is the first time I could actually say I was nervous," Jourdy smiled. "I was thinking, where are my people to help? Then Mike (Gazley) called me on my way into town and then I was like, 'Okay, I'm good.' Once things started happening then it was a little better.
"I feel good about it," said Jourdy. "It's good to give back to the community. I said that last year and I'll say it again. It's not about me or any individual, it's about everybody helping each other. It's a team effort. Hopefully more businesses will jump onboard next year and it will keep on going. It's about community, it's all about the community."
"It feels good," Boyle agreed. "It feels awesome – it was nice that we could come together, multiple businesses, to help each other. Everyone was willing to do whatever it took, no one wanted all the glory or the easy work. Everyone dug in."
As small family businesses, she said, it meant even more being able to give back.
"This was families helping families."