It's the smile on participants' faces that pleases long-time volunteer Doug Cooper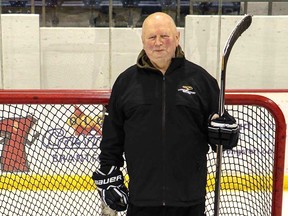 Article content
Tillsonburg's 2020 Citizen of the Year, Doug Cooper, has spent years with the Community Living Tillsonburg board, and is a Special Olympic – Tillsonburg coach.
Article content
"It's an honour and I'm humbled by it," said Cooper following last week's Citizen of the Year announcement. "I'm sure there are lots of people in town that are far more deserving than me, but I'm honoured to be recognized."
We apologize, but this video has failed to load.
It's the smile on participants' faces that pleases long-time volunteer Doug Cooper
Back to video
Cooper first became involved with Special Olympics – Tillsonburg nearly 20 years ago when he was invited to a Fun Day by Mike Cerna. He was soon coaching softball, but wasn't thinking about a lifetime commitment. It just turned out that way.
"Every year comes and goes, and you never think about how long you've been doing it," he said. "As long as you enjoy doing it, that's the important thing.
"For example, you have a player all year in practice that could hardly hit the ball… you get into a tournament and they get their first base hit ever. Then somebody hits them in. The smile on their face, it warms your heart because you're smiling as well, not for yourself but for them. That's what's important. That's what pleases me most about Special Olympics.
"If a team's getting blown out… we'll give them the ball and watch them score. We like to make sure everybody has a chance to score a basket. It's not just about the sport, it's the sportsmanship too."
A Community Living Ontario executive director once said about Cooper, 'Doug is quiet, but when he speaks up every sits up and listens.'
"I took a crisis intervention course at Fanshawe College," Cooper explained. "One of the main things they tell you is to listen. Listen to what people have to say, then you can react. I've always carried that with me."
Article content
It served him well not only in his broadcast career, but also as a coach.
"I was in management there (local radio) for 32 years. You learn things about people, you learn how to deal with people and that moves over into coaching as well. You learn how to deal with players, how to deal with management, how to deal with the rules."
A book could be written about Cooper's junior hockey GM career that included stints in Burford, Port Stanley (twice), Delhi (three), Tillsonburg and North Middlesex – he's still chasing that league championship ring.
He also coached local minor hockey teams from tyke to midget.
"With the midget house league one year, we won Southern Counties. That's one team I will never forget. I also got suspended that year, but that's another story," he laughed.
cabbott@postmedia.com