Hub land sale windfall totals $876G
Budget talks: Norfolk's 2022 surplus could be as high as $5M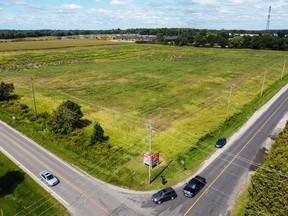 Article content
Norfolk council had the pleasant task Thursday of finding a place for the substantial windfall arising from the sale of the former hub lands in Simcoe.
Advertisement
This advertisement has not loaded yet, but your article continues below.
Article content
Norfolk County bought the 24-acre property at the corner of Ireland Road and Decou Road in 2019 as part of an ambitious application to the provincial government for recreational funding.
We apologize, but this video has failed to load.
Hub land sale windfall totals $876G
Back to video
The county's proposal for a $50-million multi-use recreation complex was rejected, leaving Norfolk to decide what to do with its $3.2 million investment.
Norfolk had an understanding with investors from the Zitia Group, of Paris, that the latter would recoup the vacant land at the original purchase price if the county's application to the province fell through. That understanding, however, broke down over a disagreement on the deadline for doing so.
In response, Norfolk council pursued an alternative means of disposal and put the land on the market for $4.95 million.
The property sold last year to the Newmarket-based housing developer Calibrex for an undisclosed sum.
Mayor Kristal Chopp said the county's net gain from the exercise amounted to $867,000. At the county's 2022 budget deliberation Thursday, council agreed to deposit the cash into a general reserve fund with a recommendation to spend it on recreation.
Council will have another pleasant problem to consider this spring or early summer when treasury staff produces a final, year-end report on the 2021 surplus.
Earlier this month, Norfolk treasury staff said the surplus will be in the range of $4.5 million and could be higher. Staff said Norfolk ended the fiscal year in the black thanks to strong support from the Ford government in the area of COVID-19 management.
Advertisement
This advertisement has not loaded yet, but your article continues below.
Article content
"At the end of the day, it's going to be council's decision where those surplus funds go," CAO Al Meneses said following the budget session.
"Clearly – from a staff perspective – it would have been preferable to augment our reserve contributions as we try to solidify our financial position going forward. In all likelihood, there could be some 2022 priorities that we might want to pull from that surplus. It will ultimately be a council decision."
Thursday's deliberation was a subdued affair unusual for beginning and ending with a single, day-long council meeting. Operating budget deliberations in the past have lasted as long as five days spread over a couple weeks.
Norfolk council was able to fast-track this deliberation, in part, because staff came in with a business-as-usual draft budget calling for a 3.2 per cent increase in the levy compared to 2021.
Much of this is comprised of new revenue from new assessment growth. The typical homeowner in Norfolk will see a 2.4-per-cent increase in taxes this year worth approximately $75.
Because staff produced a draft budget with lower spending than council requested, council didn't have much to debate Thursday.
However, members did have a thorough discussion over a 2021 decision to withdraw county participation from the South Central Ontario Region group of municipalities, a union of counties and urban municipalities in this part of the province devoted to identifying and encouraging economic development opportunities that might benefit the entire membership.
Norfolk council decided early last year that its membership in SCOR would end in 2022. Thursday, council reconsidered and earmarked $25,000 to another year of SCOR participation.
In the resolution approving the move, council said Norfolk businesses and industry need all options at their disposal as the economy recovers from two years of pandemic lockdowns and partial lockdowns.