Grocery store gift card drive starts next week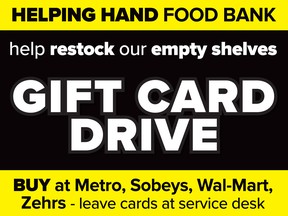 Article content
The first Helping Hand Food Bank signs for the new fall grocery store gift card drive are going up next week.
Article content
A new Thanksgiving Grocery Store Gift Card Drive gives people the opportunity to purchase a gift card at a grocery store in Tillsonburg during the month of September.
We apologize, but this video has failed to load.
Grocery store gift card drive starts next week
Back to video
Leave the gift card at the store service desk and the food bank will pick them up. Donations by cash or cheque at the food bank are also be appreciated, organizer say.
"We've got 100 signs and they're going to be out all over town in September, like we usually do for the Food Blitz," said Joan Clarkson, the food bank's community relations co-ordinator. "We want to re-stock our empty shelves.
"It's just really important that people know that we're going to use the cards to refill our shelves. We're not going to be giving out food cards or anything like that, we are using the gift cards to purchase food that we can distribute," she added. "When we approach the stores to purchase food, we buy bulk and they often order it in special for us."
Tillsonburg's four grocery stores – Metro, Sobeys, Zehrs and Walmart – are all onboard with the food bank's gift card drive.
"All four stores have all been wonderful, they're just so 'gung ho' to do this for us and I think that's wonderful," said Clarkson.
The signs do not have a month/year on them, said Clarkson, noting they might need to do a spring drive at some point in the future.
"We might have to do it again – it depends. The goal is to get our shelves full because… who knows what happens when CERB ends? We don't know what's going to happen, we do know it's going to get rough."
Article content
The former Food Blitz, replaced by the gift card drive, was a one-day, door-to-door 'blitz' that started in Tillsonburg in the late 90s, said Clarkson, who has been involved with the food bank for 12 years – until the end of August when she retires.
Last year the one-day food blitz brought in just over 21,000 pounds of food, kick-starting the fall-to-Christmas community food drives.
"It really took off when we put the signs out," said Clarkson, hoping history will repeat with the new gift card drive signs.
"We just can't do the one-day food blitz this year, we just can't. It's impossible. We can't have that many people sorting 21,000 pounds of food in the back room. But we will continue to have our Christmas food drives which is companies, like Marwood, churches, clubs, schools doing their own food drives. They come in with 200-300 pounds at a time, maybe, and we do have the staff that can sort that quick."
cabbott@postmedia.com