Green Party focuses on climate change: Reid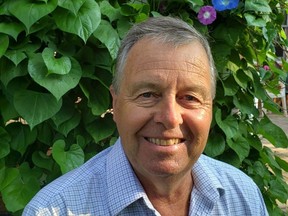 Article content
Bob Reid, Oxford federal Green Party candidate, supports clean air and fresh water.
Article content
The focus of the Green Party of Canada has been climate change since its origins in 1983, said Reid, who lives in Upper Ratho (near Bright) in Oxford County.
We apologize, but this video has failed to load.
Green Party focuses on climate change: Reid
Back to video
"That reason seems even more important today as the effects of climate change worsen."
Reid recently heard of the roof blowing off the building in Norwich where they were going to have the polling station, just one example of severe storms passing through the region.
"I've been trying to point to visual aids to show climate change – not too many in Oxford County this year, but a few of them are starting to pop up. There have been some bad storms, a lot of buildings destroyed.
"Much more severe out west on the prairies where the crops have withered and died, and they're shipping cattle out because they can't feed them, and of course B.C. where forest fires have destroyed hundreds of homes.
"(Climate change) is a difficult thing for politicians to deal with because there is such a long term problem that's going to have to have a solution applied over many years, as opposed to two or four year cycles."
As for Green Party policies and their local impact, Reid supports the move toward electric vehicles.
"That's quite important here in Oxford County, we have two auto manufacturers, the CAMI plant in Ingersoll that is already switching to making all-electric delivery vehicles … and the Toyota plant where they are producing RAV4 hybrids here and working on going to all-electric…"
Reid recalls the provincial government eliminating subsidies for people to buy electric vehicles.
Article content
"I think you need to put things like that back in place to encourage people to make the switch."
Reid also supports producing clean electricity to eliminate burning fossil fuels through solar or wind power or more hydro-electric power. He suggests the roofs of large hog and dairy barns going up would be a good place to put solar panels.
"They could generate a tremendous amount of solar energy."
A first time federal candidate, Reid has not been doing a lot of door-to-door campaigning so far, and his first attempt to set up a booth with pamphlets and profile at the Woodstock Farmers Market was thwarted.
"We might make another attempt because it is a little more difficult to meet people directly this year. I think there's still some concern if you go door-to-door in this time of COVID."
Reid did participate in the Unifor Local 636 all-candidates debate in Woodstock on Sept. 7 (broadcast by Rogers), but that event did not allow audience participation.
"I've been putting up signs, but I have a very limited budget. I have had a lot of people honk their horn or give me the thumbs up when they see me doing that, so I'm encouraged by that."
The important thing, said Reid, who can be reached by email at farmhouse@cwisp.ca or 519-504-7474, is to make people aware of climate change and give them options.
"That's probably one of the reasons that I decided to run this time – that people like to have the choice if they want to express their support for addressing climate change, the Green Party is based on that. So that will indicate in the election how big a concern it is to the voting population."
cabbott@postmedia.com