Gemini girls win tourney shootout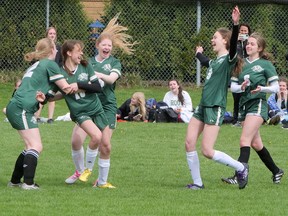 Article content
The Glendale HS Gemini girls soccer team twice came from behind Friday afternoon to win the fourth-place Gemini Cup game 3-2 in a shootout over Woodstock Collegiate Institute.
Article content
We apologize, but this video has failed to load.
Gemini girls win tourney shootout
Back to video
"Glad we finally pulled through," said Glendale goalie Mallory Collins, who was making her Gemini Cup debut.
Collins made two 'saves of the game' Friday. The first came on an early WCI penalty shot.
"First time I've ever done that," said Collins, who needed direction from the referee to find her penalty-shot spot on the goal-line. "I don't play soccer and I'd never taken a penalty shot before. I didn't know."
Collins played it perfectly, diving to her right to get her hand on the ball, deflecting it wide of the post.
"I tried to read her foot. I kind of know from hockey where people shoot and put that into soccer."
Her second highlight reel save came with the Gemini trailing 2-1. A rebound shot from only a few feet away, 15 minutes into the second half, was deflected almost straight up over the crossbar.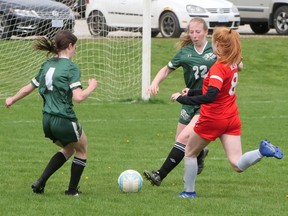 "I hit the first one with my hands and it bounced right out to her. Then I stuck my arm out and it hit my arm and deflected up."
WCI had made it 1-0 on a long free kick, then 2-1 with another 'missile.'
"I tried to jump up but there was no way I could get that," Collins laughed.
"And the wind was bad," said Collins, recalling gusting winds mostly out of the east, but sometimes from the north on a north-south field.
Glendale's Alex Holmes, aiming for the top corner, had replied to make it 1-1 with a similar long-range shot.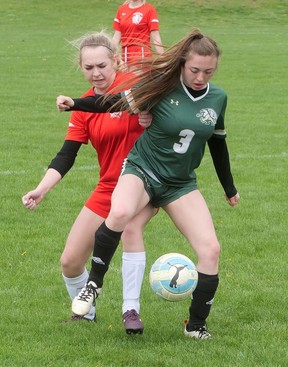 "It's definitely more pressure (in tournaments), just because you don't have as much time as you would in a (league) game," said Holmes, who scored her second of the game with about five minutes left in the 25-minute second half to make it 2-2, sending it into a shootout.
Article content
Her long, high shot dropped in behind the goalie, who was off the line, bounced and crossed the goal-line before the goalie got her hands on it – at the line.
"It was very close," admitted Holmes, who after the game was awarded 'Gemini Game MVP.'
"I thought she was going to get it."
"The wind took that one," said Collins.
Glendale's Agnes Sopronyi also had two blistering first-half shots that WCI's goalie did well to stop.
In the shootout Reegen Lindie and Katie Parkins scored for the Gemini girls, but it took seven shooters to end it on a goal by Glendale's Hailey Breddy, who scored 'bar down.'
"I was kind of just focusing on one shot at a time trying to read where they were going to shoot a bit," said Collins. "I was a little nervous – nervous because it's my first time playing this sport."
In the round-robin WCI girls lost 1-0 to Simcoe Composite, tied St. Joe's 2-2, and tied London Lucas 0-0.
Simcoe Composite School girls shut out WCI 1-0, lost to Lucas, and were edged 3-2 by St. Joe's. Third in the A Pool, SCS met South in the 3rd place final.
"Everyone just loves the Gemini Cup," said Glendale coach Michelle Dench, noting they had a tournament waiting list. "I think it's just a really nice soccer facility, and it's unique that it's a boys and girls soccer tournament. A lot of high school tournaments are singular, boys or girls."
In TVRA league play the Gemini girls were 1-1 as of last Thursday, locked in a four-team tie for second in the East Division with WCI, Huron Park and Ingersoll after shutting out Ingeroll 4-0 and a 5-1 loss to St. Mary's.
Article content
"Our team is a fantastic group of girls," said Dench. "We're finally working out who our starting lineup is and they work well together.
"Unfortunately, Chelsea Fischer is injured – she is a key player – and hopefully she'll be able to come back soon.
"We were so pleased with that last game," said Dench, "because we play WCI on Monday (May 9)."
The Gemini girls had opened the Gemini Cup with a loss to Parkside, a 2-1 loss to London South, and 4-1 loss to Dorchester.
"The first game wasn't so close, the second game was close, and the third game, we battled hard," said Holmes.
"I think we were competitive with South," said Dench.
cabbott@postmedia.com