Butterflyway gardens are 'seeds of hope' for Monarch butterflies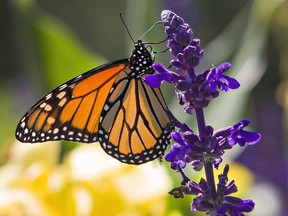 Article content
When Susan Rumble moved to Tillsonburg from Manitoulin Island a year ago to be closer to family, spending time together with her 10-year-old granddaughter Paige was high on her priority list.
Article content
Regularly, Rumble would receive the David Suzuki Foundation newsletter and read about the Butterflyway Project and the need for volunteers. When her granddaughter said she would like to be involved, Rumble was pleased to have a special project to share with Paige.
We apologize, but this video has failed to load.
Butterflyway gardens are 'seeds of hope' for Monarch butterflies
Back to video
Rumble says it was important to instill the importance of Suzuki's work. It would be fun spending time together working with nature and learning about the environment, and at the same time forming a special bond between them.
Loaded with youthful enthusiasm and energy, Paige created an invitation to give out at her school, but then the school went online due to the pandemic. The word was out though and the public awareness for the Monarch butterflies had started.
Not able to shop for plants together, Rumble went online and ordered Butterfly Seed Bomb kits from Radicalroots.ca. When the seeds arrived it made a fun afternoon preparing kits to be handed out to the public. The seeds were packaged so nicely some people thought they were chocolate samples.
Now they were faced with how to get those bombs to local gardeners. Paige's grandfather came to the rescue and built a 'Bomb Stand'.
Paige and a friend who had just done a project on Suzuki spent a day outside explaining the project to neighbours. The pair gave out 45 seed bombs packed with butterfly milkweed, Joe Pye weed, wild lupine and white aster seeds.
The seedlings are now planted but still small. Rumble and her granddaughter aren't worried. Both have faith in their work and the many people who really do care about the environment.
Next year the roots will have taken and they will be taller and stronger. As they grow the Butterflyway Project will hopefully continue to take flight.
More Butterflyway gardens mean more interest and exposure to the crisis facing the Monarch butterflies. Together with enthusiastic volunteers and gardeners this is one dream that is becoming a reality. The pollinator plants are the seeds of hope that change for the better can be made one Butterflyway Garden at a time.
Learn more about the #butterflyway at davidsuzuki.org/butterflyway .