Book your third-dose appointments in Oxford, Elgin: Lock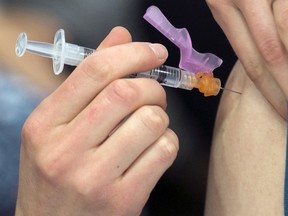 Article content
Although COVID-19 numbers are trending in the right direction, dropping in Oxford and Elgin counties, 51 people were in the hospital in the region on Monday, including 10 in intensive care.
Article content
Southwestern Public Health reported 249 new COVID-19 cases in a three-day period (from people tested) Friday to Sunday and 803 active cases in the region, including 61 in Tillsonburg.
We apologize, but this video has failed to load.
Book your third-dose appointments in Oxford, Elgin: Lock
Back to video
"Likewise our weekly per cent positivity fell," said medical officer of health Dr. Joyce Lock, "from 24.5 per cent the first week of January to 18.5 per cent the second week of January. Another good sign."
However, the number of deaths in the region (since March 2020) is now 132, including a woman in her 70s Woodingford Lodge in Woodstock and a man in his 80s from Oxford last week and two deaths on Monday – one man in his 80s from Oxford and an Elgin man in his 60s.
Nineteen long-term institutional facilities in the region had active outbreaks as of Monday, including Tillsonburg Retirement Residence declared Dec. 29 and Maple Manor Jan. 18, which reported 16 staff cases and three residents. Alexandra Hospital in Ingersoll and St. Thomas-Elgin General Hospital also reported outbreaks last week.
"I want to recognize our partners in these sectors who are working tirelessly to keep our most vulnerable residents safe," said Lock.
The health unit is now offering fourth doses to people in long-term care settings
Last week Ontario Health provided new data on COVID-19 cases following vaccination (break-through cases). Omicron has led to many break-through cases, and people with one, two and even three doses of a COVID-19 vaccine have been reported.
Article content
"However, the good news is that these vaccines continue to greatly reduce your risk of serious illness, hospitalization and death," said Lock.
"I am very concerned about the number of residents in the area who have not yet come in for their booster doses. According to our records we have more than 26,000 residents over the age of 50 who are double vaccinated but have not yet received that important booster dose."
The medical officer of health urged everyone, especially those over 50, to book a COVID-19 appointment for their first, second and third dose.
"Our team is here ready and waiting for you."
In addition to many appointments available in Tillsonburg on Jan. 25, there is room to book appointments in Woodstock and St. Thomas clinics.
"By the first week in February there are hundreds each day."
Lock would also like to see more children ages five to 11 vaccinated.
"Approximately 40 per cent of our five to 11-year-olds have at least one dose, meaning we are trailing the provincial average by about 10 per cent.
"I reiterate these vaccines are safe and effective for children and everyone else.
"With so much Omicron variant circulating you may be wondering if you should just get over it and whether you even need a booster dose at this point. My answer is resounding… don't just leave it to fate. You don't know how your body will respond and you could subject yourself to serious illness. You may even end up hospitalized or with long COVID syndrome. It's much better to choose immunity through vaccination."