Board of health ready to resign over differing rules for farm workers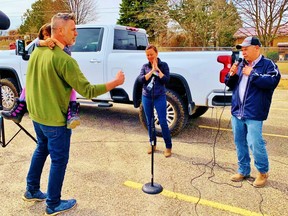 Article content
The Norfolk and Haldimand board of health is prepared to resign unless the Ontario government ensures that the same rules apply to all farmers in Ontario when it comes to migrant workers and COVID-19 protocols.
Article content
Norfolk Mayor Kristal Chopp, chair of the board of health, dropped the bombshell during a March 23 rally protesting the higher public-health standard in Norfolk and Haldimand relative to other health districts.
We apologize, but this video has failed to load.
Board of health ready to resign over differing rules for farm workers
Back to video
"If you want me to say it's bullshit, I will – it's bullshit," Chopp said in response to a farmer who berated the mayor while she addressed a large crowd at the Norfolk County Fairgrounds in Simcoe.
"All options at this point are on the table," she told the crowd. "If that means the entire board of health resigning, we're prepared to do that."
Norfolk council serves as the board of health for Norfolk and Haldimand counties because of Norfolk's larger population.
The board has been largely passive over the past year as Dr. Shanker Nesathurai, Norfolk and Haldimand's medical officer of health, has imposed public-health orders on the management of migrant workers that go beyond what is required in other health districts.
However, the tone changed on March 22 after the board of health emerged from a lengthy closed-door session and passed a resolution directing Haldimand-Norfolk MPP Toby Barrett to arrange "an urgent meeting" with Health Minister Christine Elliott and Dr. David Williams, Ontario's chief medical officer of health.
On Tuesday, Chopp said local public-health decisions are being made "in a silo," so much so that the board of health has lost confidence that it can "meet our obligations" under the Health Protection and Promotion Act.
Article content
If not satisfied with the province's response, the board will resign and leave the Ford government without a local health authority, said Chopp.
Last year, Nesathurai stipulated that only three migrant workers could perform their mandatory 14-day quarantine per bunkhouse in Norfolk and Haldimand regardless of how large a bunkhouse might be.
This compares with health jurisdictions elsewhere which apply the federal standard. The Service Canada standard says offshore workers must be able to maintain two metres social distancing at all times during the quarantine period. Under this formula, floor area determines how many workers can quarantine per bunkhouse.
Nesathurai's latest stipulation requires farmers to shuttle up to three migrant workers at a time in a private vehicle from Toronto's Pearson International Airport to their bunkhouses and not en masse in buses. The board of health has broken with Nesathurai over this because affected workers arrive together on the same airplane.
As well, requiring separate rides means multiple drivers may be exposed to COVID-19 instead of a solitary bus driver. Critics also point out it is difficult to social distance in a regular vehicle but feasible on a large vehicle like a bus.
Frogmore asparagus grower Frank Schonberger told the crowd the solution is for the province or Ottawa to take charge of the mandatory 14-day quarantine and let farmers focus on producing food.
Schonberger added the 250 tractors taking part in last Tuesday's action is the most he's ever seen for such a protest. He suggested Queen's Park could be next if the Ford government doesn't acknowledge the plight of local farmers.
"Don't put your tractors in the barn just yet," Schonberger said at the close of the protest. "We might have to go even further yet."