Be patient, let snow plow operators do their jobs safely: County of Oxford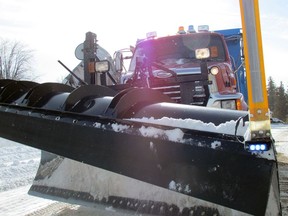 Article content
Public Works crews in Oxford County are salting, sanding, and plowing this winter to keep roads safe for driving.
Advertisement
This advertisement has not loaded yet, but your article continues below.
Article content
Snow, mixed with high winds in the forecast for Oxford County, Public Works reminds drivers to slow down and give snow-plow operators space to work.
We apologize, but this video has failed to load.
Be patient, let snow plow operators do their jobs safely: County of Oxford
Back to video
County crews clear snow on 57 different roads, spanning about 1,185 'lane kilometres.' Stretched out, those lanes would be about the distance from Woodstock to Quebec City – or a 10-hour trip at 80 km/h.
Municipalities in Oxford are responsible for secondary roads and residential streets.
County snow plows typically travel below the posted speed limit, as lower operating speeds are more effective for clearing roads, applying salt and, if conditions are desirable, anti-icing liquid.
Crowding, tailgating or passing a snow plow can be very dangerous. A fully loaded plow truck cannot maneuver easily or stop quickly and it has many blind spots. Don't assume a snow plow operator can see you, especially if you are driving too close and visibility is poor, which is often the case.
Passing a snow plow is never a good idea. Although they move slowly, the road behind an active plow is always safer than the road ahead. A good rule of thumb is to be patient and allow 10 car lengths between you and the plow since plowing creates a cloud of snow, which can decrease visibility and simulate whiteout conditions.
If you encounter a snow plow, slow down, be patient and stay back. Snow plow operators are working hard so everyone can travel safely.
"Plow operators often encounter drivers that are impatient or pass them at high speeds," said Frank Gross, Manager of Transportation and Waste, Oxford County in a media release.
Advertisement
This advertisement has not loaded yet, but your article continues below.
Article content
"They have an important job to do, often working long hours in poor driving conditions. If you're driving behind a snow plow, stay back, be patient and don't try to pass. Roads are plowed in sections, so you usually won't be stuck behind a plow for more than 20-30 minutes."
Pedestrians who see a snow plow should step away from the street, and children should never play near roadways. Building snow forts in freshly piled snow is extremely unsafe. Snow plow operators often clear the same routes more than once and will have difficulty seeing children if they are playing behind or under a pile of snow near the road.
Other winter driving safety tips include:
Turn on your headlights and tail lights, even during the day.
Use winter-rated snow tires with the mountain-snowflake symbol.
Pull as far over to the right as is safe when you see a snow plow approaching from the opposite direction.
Adjust your speed for road conditions and schedule extra time for winter travel.
Assume that bridges are slippery since they freeze more quickly than road surfaces.
Keep your fuel tank at least half full to help reduce moisture in the fuel system and add weight to the vehicle.
Keep a winter survival kit in your vehicle, including a blanket, extra warm clothing, a flashlight, shovel, non-perishable food, and water.