Arcady ensemble will perform at Whistling Gardens July 17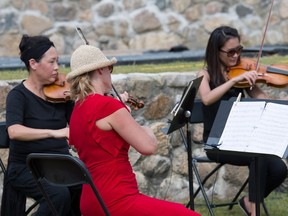 Article content
The sounds of instruments and voices will once again carry throughout a Norfolk County botanical garden.
Article content
The Arcady ensemble will perform Music in the Gardens: The Strings and Soloists of Arcady, an outdoor concert at 7 p.m. on July 17 at Whistling Gardens in Wilsonville.
We apologize, but this video has failed to load.
Arcady ensemble will perform at Whistling Gardens July 17
Back to video
"Our partnership with Arcady, which began this past September has proven to be a mutually fulfilling endeavour," said Wanda Heimbecker, who along with her husband Darren own the award-winning gardens, where a sold-out performance was staged last fall. "We feel that Arcady's concert fits perfectly into our mission by uniting the beauty of nature with the splendour of live musical performances."
The concert program include the premier of emerging artist composer Emma Verdonk and her string quartet Zonlicht, along with a number of newly arranged works by the ensemble's artistic director Ron Beckett, who will conduct the event.
Arcady's string quintet and a number of vocal soloists will also perform.
Beckett, who grew up in Simcoe, is one of the country's most prominent composers with his operatic, instrumental, vocal and choral music heard on radio stations around the world.
A professionally based ensemble, Arcady performs about 30 times each year in Toronto and throughout Southwestern Ontario.
Arcady has been acknowledged by the Tourism Industry Association of Ontario with a Safe Travels stamp as an indication of their ability to offer their audiences safe recreation.
All social distancing and COVID-19 safety measures will be in effect at the event, which will have limited entry.
Tickets are $37 for adults, including day admission to the botanical gardens and fountain shows and are available by sending an email to info@arcady.ca, calling 519-428-3185 or by visiting the Whistling Gardens at 698 Concession 3, Wilsonville.
A second outdoor concert entitled A Woodland Walk is scheduled for Aug. 14 at 4 p.m. at the same location.