Council trims proposed increase on first day of budget deliberations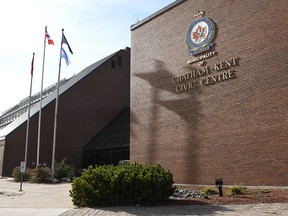 Article content
In an effort to trim the proposed tax hike, Chatham-Kent councillors took the knife to a number of infrastructure line items during the first night of budget deliberations.
Article content
Monday's decisions didn't come without debate, with some councillors and staff cautioning that cuts would simply push the problems down the road.
We apologize, but this video has failed to load.
Council trims proposed increase on first day of budget deliberations
Back to video
East Kent Coun. Steve Pinsonneault entered a successful motion asking for $1.9 million slated for shoreline issues be reduced by $650,000, noting it might be some time before work can even begin on erosion mitigation strategies.
However, West Kent Coun. Melissa Harrigan wondered if senior levels of government might be less inclined to come to the table to share the cost.
She said the municipality has to be prepared to invest what it can given the magnitude of the problem, which has impacted such areas as Talbot Trail and Erie Shore Drive.
"This is going to be our new reality," she said.
South Kent Coun. Clare Latimer, who presented this week as part of the Great Lakes and St. Lawrence Cities Initiative at the Rural Ontario Municipal Association conference, said Chatham-Kent is seen as a forerunner and has to be ready for potential senior government funding.
Chatham Coun. Michael Bondy said council wasn't "gutting this" but simply bringing down the figure to lower this year's tax impact.
Keeping costs down, he added, is prudent "until we get some real answers on this."
In other reductions, the budget committee approved a motion from Harrigan to remove $550,000 from underground infrastructure and instead allocate the same amount from lifecycle asset management to the storm sewer lifecycle.
Article content
South Kent Coun. Anthony Ceccacci entered a successful motion to cut $675,000 from asset management in lieu of divestments.
Chatham Coun. Doug Sulman entered a motion to reduce the allocation for lifecycle inflation from four per cent to 3.3 per cent.
Councillors then adjourned to closed session for the remainder of the evening.
With Monday's cuts, the proposed tax increase was dropped from 4.74 per cent to 3.37 per cent. This figure isn't finalized until the budget is passed.
Deliberations continue Thursday and Tuesday. If needed, Feb. 2 and 3 have also been set aside. The meetings run from 6 p.m. to 10 p.m.
Staff will accept written deputations of up to five minutes each evening. Submissions must be sent to ckfps@chatham-kent.ca before 3 p.m. each day.
Comments can also be mailed to Budget & Performance Services, Municipality of Chatham-Kent, 315 King St. W., P.O. Box 640, Chatham, Ont., N7M 5K8, or submitted by phone to 519-360-1998.
All budget meetings will be broadcasted by YourTV and livestreamed on the YourTV Chatham-Kent YouTube page.