Steelhead trout made easy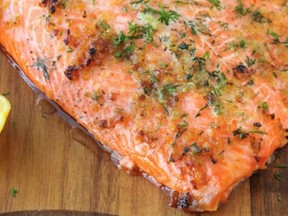 Article content
Freson Bros has Steelhead Trout on special starting May 13. If you're a fan of fish, or just starting out, this is a recipe for you to test out from www.olgasflavorfactory.com.
Article content
We apologize, but this video has failed to load.
Steelhead trout made easy
Back to video
INGREDIENTS
1 steelhead trout or salmon fillet (1 1/2 – 2 1/2 lbs)
4 Tablespoons butter
1 shallot, minced
2 garlic cloves, minced
1–2 Tablespoons fresh dill, minced (you can also use other herbs, like parsley, chives))
salt, ground black pepper, to taste
1 lemon (1 teaspoon of zest and all the freshly squeezed juice)
INSTRUCTIONS
Preheat the oven to 450 degrees Fahrenheit. Line a rimmed baking sheet with aluminum foil or parchment paper.
In a skillet or small saucepan, melt the butter. Add the shallot and cook on medium heat for about 3 minutes, until the shallot softens.
Add the garlic and the lemon zest, cook for another minute. Cool slightly. Squeeze in half of the lemon juice.
Place the fish on the prepared baking sheet. If it's really big, lay it diagonally across the baking sheet. Season with salt and pepper.
Spoon the butter over the fish.
Sprinkle with half of the minced dill.
Roast in the oven for 12-17 minutes, depending on how thick the fish is. The best way to check for doneness is to use a fork to gently prick the fish, and if it flakes easily, it's ready.
Use several spatulas to take the fish off the baking sheet in one piece. (Or cut it into sections, if it's easier.)
Squeeze the other half of the lemon over the fish and sprinkle with more fresh dill.