Eight-week pilot project to deliver fruit and veggies to 20 county schools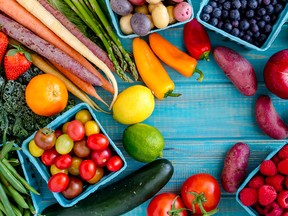 Article content
Not all kids love them, but fruits and vegetables are essential in a healthy diet.
Beginning on Monday, 20 schools across Oxford County started an eight-week pilot project that will see three to four fresh fruit and vegetable options delivered weekly to encourage healthy-eating habits. The delivery project, which is a part of the Ontario Student Nutrition Program, will see the produce used "as is" as snacks for students or incorporated into foods on the school menu.
The pilot project aims to increase the variety of what is served to students, save money by purchasing fruit and vegetables in bulk, increase access to local, fresh food and offer an addition to the curriculum that links the food to the farm.
Currently, nutrition programs rely on each school's program coordinator to purchase food, plan menus and organize volunteers to help prepare and serve the food. This pilot program will look to help alleviate the work load as food is delivered weekly right to the school's door with menus planned in advance. Each participating school will also work with dietitians from Oxford County Public Health to assist with educational materials, menu planning and recipe ideas.
"The hope is that it makes the job for each of the schools' coordinator a bit easier with streamlining purchasing and costs," says Jessica Janssens, registered dietician and student nutrition program coordinator.
Janssens says the program is not only aimed at given program coordinators support but to help provide a little more food for students that may not have enough to eat. She explained that the elementary school age group is known through research to not eat enough fruits and vegetables in their daily diets.
"Whether its financial, or time, if they're on a bus early and don't have time for breakfast...the benefit is to provide some extra nutrition," she said.
As part of incorporating local food, each Tuesday will see one item from an Ontario farm served on the menu. This week's menu is bananas, broccoli, kiwis and local whole carrots from a farm in Bradford.
If successful, the pilot project will continue after the eight-week period and continue to alleviate some of the challenges faced by elementary schools, including safe food transport, menu planning and budgeting.
We apologize, but this video has failed to load.
Eight-week pilot project to deliver fruit and veggies to 20 county schools
Back to video