Oxford County's dancing paramedics produce winning video to provide a new AED to the community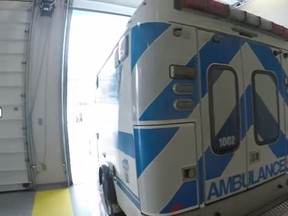 Article content
Dancing Oxford paramedic Christmas elves have saved the day by winning a costly piece of lifesaving equipment.
A short video produced by local paramedics last month resulted in the win of an automated external defibrillator (AED) and cabinet for their entry in AED4Life's holiday video contest.
The local video, shot at the Mill Street Base Station, features paramedic Christmas elves saving lives, working and dancing away.
Oxford paramedic Pedro Garcia Cordova, who was hired by the county just last May, spearheaded the effort that landed the community a piece of equipment worth about $2,000.
"We were all ecstatic (when we learned we won)," Cordova said. "For two-and-half minutes of video, we thought it was worth it."
For every minute the AED isn't utilized the chances of survival decrease seven to twelve per cent, he said.
"We believe they are very beneficial to the community," Cordova said.
Cordova, who said they competed against Grey County for the AED, said the video won based on a social media campaign.
Thanks to local residents the video had 2,500 YouTube views within two days and about 300 shares and likes on Facebook.
AEDs are electronic portable devices that diagnose life-threatening cardio arrhythmias such as a heart attack.
"Its job is to detect those arrhythmias and deliver a shock, with an end goal to reverse the life-threatening arrhythmias," Cordova said.
The new AED is expected to arrive in a couple of weeks and potential locations for where it will reside are currently under review.
Cordova said he wanted to thank the community, paramedics and staff for their assistance with the project.
He also wanted to thank his friend Justin Lee, who edited the video.
We apologize, but this video has failed to load.
Oxford County's dancing paramedics produce winning video to provide a new AED to the community
Back to video